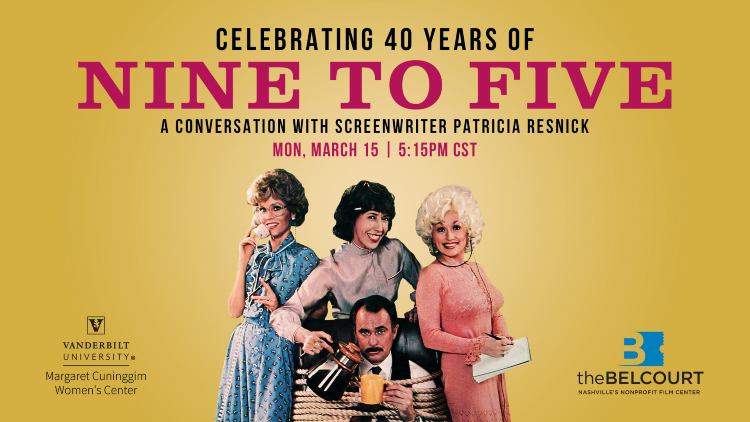 Vanderbilt University's Margaret Cuninggim Women's Center is partnering with the Belcourt Theatre to host a conversation with Patricia Resnick, screenwriter of the film Nine to Five, on Monday, March 15. The virtual event begins at 5:15 p.m. CT and is free and open to the public.
Released in 1980 to lukewarm reviews, Nine to Five is now considered a comedy classic, featuring a Grammy Award-winning theme song by Dolly Parton that has taken on anthem status. To commemorate the 40th anniversary of the film's release, Resnick will discuss the lasting impact of Nine to Five with Bonnie Dow, professor of communication studies at Vanderbilt, and Valicia Browne, a Vanderbilt junior who is studying advanced screenwriting. The event is part of Vanderbilt's 2021 celebration of Women's History Month.
About the speakers
Patricia Resnick is an American writer and producer of films, television and theater. She is best known for writing the original screenplay for Nine to Five, one of the top-grossing films of all time. After graduating from the University of Southern California, Resnick, under the tutelage of her mentor, filmmaker Robert Altman, co-authored A Wedding (British Academy Award and Writers Guild nominations) and Quintet, starring Paul Newman. Other films include Maxie and Straight Talk, which reunited her with Dolly Parton.
Bonnie J. Dow is professor of communication studies and dean of academic affairs for Vanderbilt's College of Arts and Science, where she studies the rhetoric and representation of the first and second waves of feminism in the United States.
Valicia Browne, a Vanderbilt junior originally from Brooklyn, New York, is double-majoring in medicine, health and society and theatre. She is a member of Vanderbilt University Theatre and the Black Students Association.
For more about the March 15 event, visit the Belcourt website.