Several hundred Vanderbilt University students, faculty, staff and alumni gathered Feb. 24 for a virtual panel discussion that highlighted the need for empathy and action to improve the experiences of marginalized groups in the U.S. The participants in the "This Moment in America" virtual event, hosted by the Office for Equity, Diversity and Inclusion, shared expert views and personal struggles that touched on issues tied to racial and political divisions, the COVID-19 pandemic, criminal justice reform and more.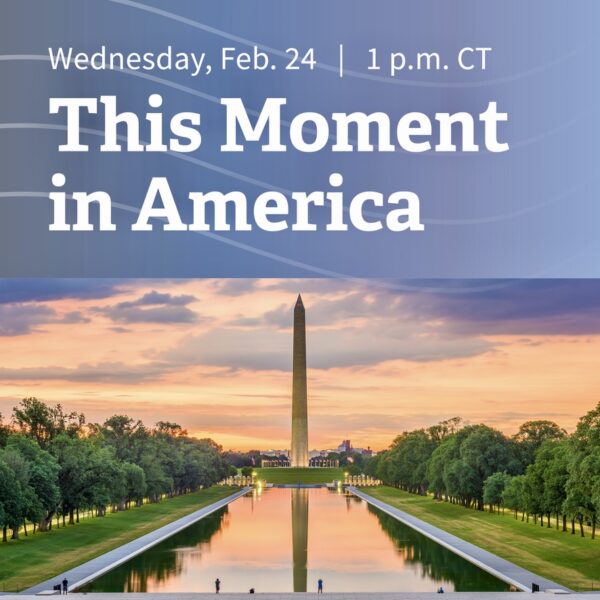 The panel discussion, which can be viewed in its entirety here, complemented the Vanderbilt Project on Unity and American Democracy by offering an opportunity to examine and interpret complex societal problems with the goal of advancing equity and inclusion.
"Many in our community face hardships of inequity, injustice, marginalization and stigma, and we must not be afraid to recognize and address these issues," Chancellor Daniel Diermeier said. "Higher education is uniquely positioned to help solve some of society's most complex problems through research, dialogue and scholarship and to help restore facts, evidence and reason into our national conversation."
Dr. André L. Churchwell, vice chancellor for equity, diversity and inclusion and chief diversity officer for Vanderbilt University and Vanderbilt University Medical Center, led the discussion. "This candid and sometimes painful discussion is one step forward in finding opportunities at Vanderbilt and in America to learn from the past to find ways to improve the lives of all people," he said.
Rob Nelson, interim director of the KC Potter Center, relayed that this time of violence, alienation and prejudice is more than just a moment for the LGBTQ+ community. "For us, it's a way of life," Nelson said.
The group urged the university to continue strengthening its equity, diversity and inclusion priorities. "We've laid out who we want to be as a university in our nondiscrimination policy, yet this is still a place where students face micro and macro-aggressions," Nelson said.
Political science major and FirstVU representative Bitania Endalkachew said that on top of dealing with monetary insecurity during the pandemic, she continues to battle racial issues, especially in the recent political climate. She shared a story of recently taking part in an online pre-law conference for minority students that was disrupted by hackers using hate speech and racist images.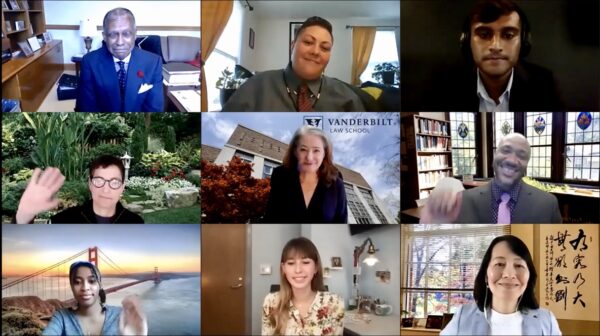 Class of 2021 student body president Veer Shah stressed that the hardest part of his position has been seeing fellow students struggle financially, socially and emotionally during the COVID-19 pandemic. "Now that we've had time to reflect, I want to work on what we're going to do to move forward," Shah said.
Xiu Cravens, associate dean for international students and affairs at Peabody College of education and human development, recalled participating in the Tiananmen Square protests in 1989, when she and other Chinese students were attacked for marching for democratic principles.
She stressed that living in a multiracial, multiethnic, multireligious country may mean that we are in for a rough future. She challenged Vanderbilt and other universities to think about how we can prepare young people and be a "positive and unifying force."
"The university is in the business of building human capital with education and degrees, but we also have a responsibility of fostering social capital. So maybe it's time to start working with all of our diverse student groups and making these tight circles more connected," Cravens said.
Claire Barnett, communications coordinator for the Frist Center for Autism and Innovation, spoke as a neurodiverse individual and an autism self-advocate. She created an "aha" moment for all of the panelists when she talked about the issues surrounding various disabled communities.
"What's interesting about disability as a minority community is that you never know when you are going to join this community, so the work you put in now could potentially be planning for your future," she said.
All of the panelists agreed with a poignant line from Franklin Ellis, director of the Provost's Office for Inclusive Excellence. "There's no growth in comfort and no comfort in growth," he said. "So people need to engage on the ground level and find ways to lead with empathy now."