Parking Lot 6B, between Grand Avenue and Scarritt Place off of 21st Avenue South, will close permanently on March 1 as a part of the Owen Graduate School of Management Capital Project.
The project includes the renovation of the current Owen building, a 48,000-square-foot addition and a new enhanced, ADA-accessible pedestrian pathway and entrance to Owen, as well as green space and a new section of the Walk and Roll Loop, a wide and comfortable loop encircling campus for active transportation and recreation.
The closure of parking Lot 6B for the project is part of Vanderbilt's FutureVU initiative to improve connectivity and enhance accessibility throughout campus while also achieving the university's sustainability goals. The entrance to Owen from 21st Avenue South is also being redesigned to better connect the university with the surrounding Nashville community.
All of the ADA-designated parking spots in Lot 6B will be relocated to surrounding parking lots and structures. Nearby lots for annual permit holders include lots 5, 5A, 5B, 6 and 6A, all along 21st Avenue, and all include available existing ADA parking spots. Multiple lots along 19th Avenue also are available. Daily parking participants can still use the Wesley Place, Terrace Place and Sony garages.
Also with the closure of this lot, the VandyRide stop located north of the main library in Lot 6B will permanently move on March 1 to the front of the School of Nursing.
Download the Vandy Safe app for more information on VandyRide stops and routes.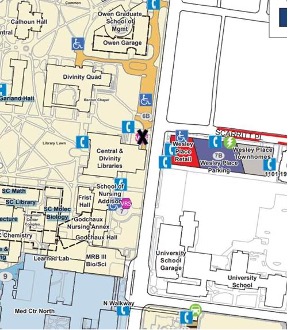 Contact Parking Services at 615-322-2554 or parking@vanderbilt.edu with questions or concerns about parking. Questions or concerns regarding the project can be directed to Campus Planning and Construction at constr_alerts@vanderbilt.edu.