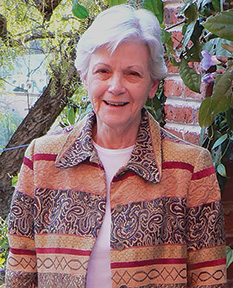 Annie Beatrice "Bea" Martin, a retired teacher and administrator who was committed to education, outreach and social justice, died Oct. 11, 2020. She was 87.
She taught multiple grade levels and subjects at several institutions during her long career in education, and she worked for the Board of Missions of the Methodist Church, which later became the Board of Global Ministries of the United Methodist Church.
Born in Philadelphia, Mississippi, she graduated from Millsaps College in Jackson. She met her husband, Albert W. "Bill" Martin, MA'61, PhD'71, when they both were teaching at Robinson School in San Juan, Puerto Rico. After they were married, she completed a master's degree in teaching at Peabody College while Bill worked on a graduate degree in religion at Vanderbilt. During this time, Bea and Bill were active in the civil rights movement, participating in the Nashville sit-ins and helping to organize student protests.
During the next 30 years, while raising three children and living in various parts of the United States, Mexico City and Puerto Rico, she continued to teach and was active in several Methodist churches. She served as a librarian for the Seminario Evangélico de Puerto Rico in Hato Rey, Puerto Rico, during the early 1970s, and resumed teaching at Robinson School. She later taught at the Navajo Methodist Mission School in Farmington, New Mexico, and McCurdy School in Española, New Mexico. In the 1980s and '90s, she served as an administrator at Skyline Urban Ministry, a mission outreach of the Oklahoma Conference of the United Methodist Church, from which she retired in 1996. Martin actively supported the Reconciling Ministries Network and the Methodist Federation for Social Action, both unofficial United Methodist organizations. She was active in Amnesty International in Oklahoma City and in the Oklahoma Coalition to Abolish the Death Penalty. Bea and Bill were arrested numerous times following demonstrations against the death penalty in Oklahoma and received a lifetime service award from the coalition.
Martin is predeceased by her husband, Bill, and is survived by three children and two grandchildren.
—Staff Reports