Media Inquiries
Latest Stories
By Lisa Robbins and GayNelle Doll
The following is adapted from the story "Deep Roots, Strong Tree," which originally appeared in the Spring 2010 issue of Vanderbilt Magazine.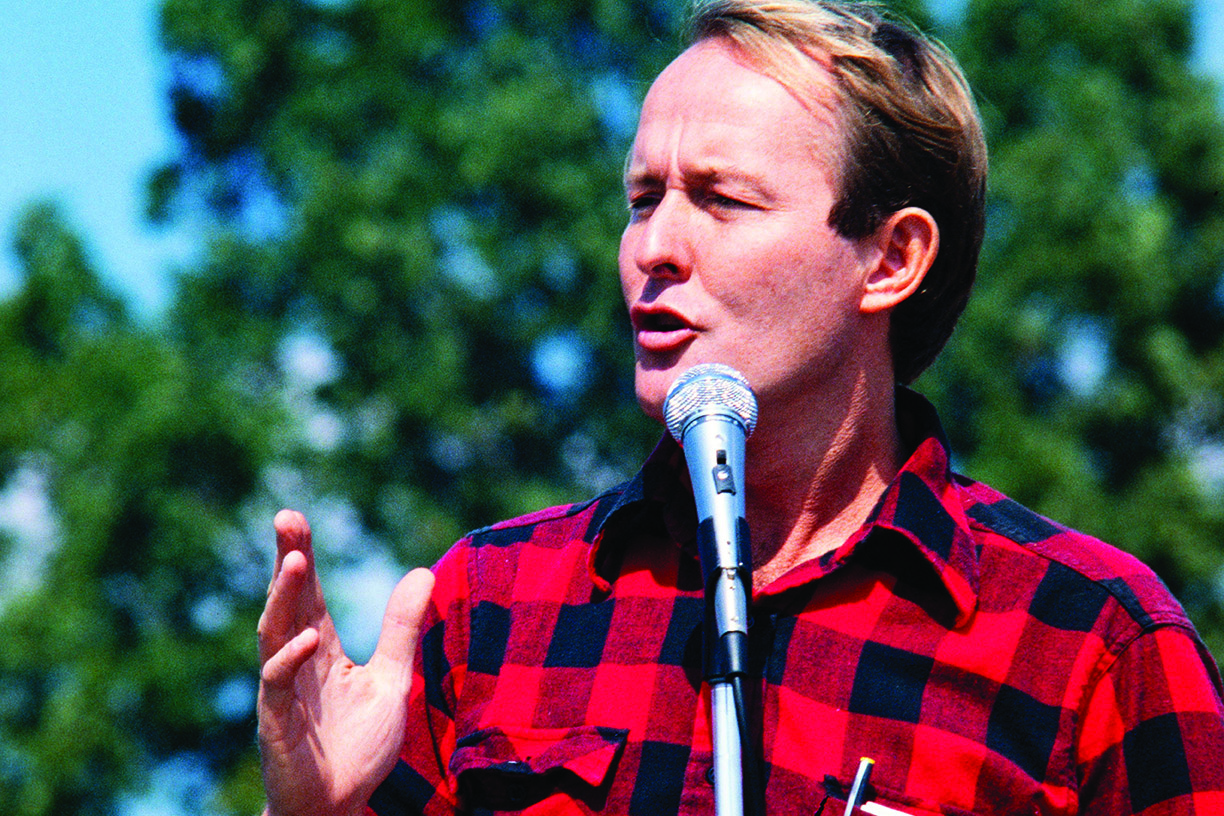 Like the red-and-black plaid shirts that became his trademark, Lamar Alexander, BA'62, is a study in contrasts.
He is an ambitious former Tennessee governor who twice ran for president, but he avoids grandstanding. As three-time Republican conference chairperson, he formulated party strategy and policy in a hyper-partisan political environment, but his record reveals bipartisan leanings. He earned his law degree in New York City and has traveled the globe for months at a time, but he is most at home in the rural foothills of his native East Tennessee.
In January, Alexander retired from the U.S. Senate after more than 50 years in public service, which most recently included chairing the Senate Health, Education, Labor and Pensions Committee, as well as the Senate Energy and Water Development Appropriations Subcommittee. While many will remember him for the three terms he served on Capitol Hill, the four years he spent on Vanderbilt's campus arguably were no less consequential.
The roots of his life's passion—using the levers of government to bring about meaningful change in society—can be traced back to his formative experiences as an undergraduate. At the time, his Commodore classmates already could envision the remarkable career that would follow.
Says writer and humorist Roy Blount Jr., BA'63: "I don't think anybody who knew Lamar in college was surprised that he has gone into politics and been successful at it."
A THOUSAND-MILE CAMPAIGN
Born in Maryville, Alexander has made educational reform and job creation centerpieces of his career. Both parents were educators: His mother operated one of the region's first pre-K schools; his father left a post as a school principal to earn better money at the Alcoa aluminum plant.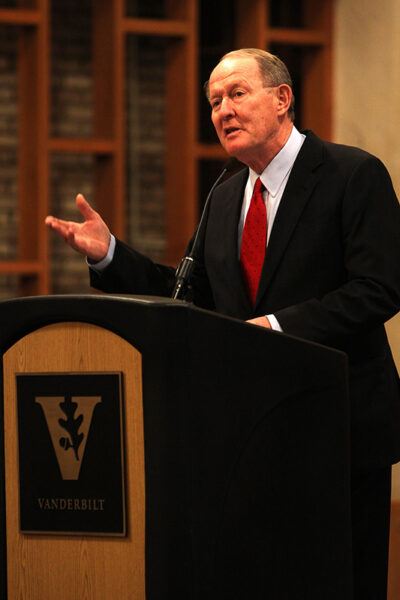 As a Vanderbilt student, Alexander resisted playing to type. He walked the high-achieving straight and narrow—as a fraternity brother, track athlete and Phi Beta Kappa graduate—while using his platform as Vanderbilt Hustler editor to oppose racial segregation.
"He was sort of statesmanly, without being pompous; serious enough and also light-hearted enough, in a dry sort of way—cool enough, let's say, but not slick or back-slapping, to be widely popular," says Blount, who followed Alexander as Hustler editor.
Blount and Alexander vocally supported the integration of Vanderbilt's undergraduate student body, joining forces with fellow student Dr. John Sergent, BA'63, MD'66 (now a retired Vanderbilt physician and professor of medicine), who brought the issue before the student senate. When the senate voted against recommending desegregation to Vanderbilt's Board of Trust, the three organized a university-wide vote.
Though the vote failed, they kept up their advocacy. The Vanderbilt Board of Trust voted to integrate the university in the spring of 1962.
After college, Alexander earned his law degree at New York University. He worked as a law clerk to Judge John Minor Wisdom on the 5th Circuit Court of Appeals in New Orleans. Next came work as a legislative assistant to U.S. Sen. Howard Baker Jr. (R-Tenn), followed by a job in the Nixon White House.
When Alexander ran for governor in 1978—his second attempt, after a humiliating defeat four years earlier—he launched his thousand-mile campaign walk across the state, trying to shake 1,000 hands a day, spending the night with 73 families. And always, wearing the plaid shirt.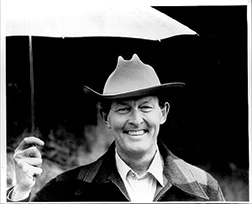 "At first my walk embarrassed quite a few establishment Republicans," Alexander writes in his memoir Six Months Off (William Morrow, 1988). But on his second try, Alexander won handily, aided by scandals plaguing incumbent Democrat Gov. Ray Blanton, who did not run for reelection. Alexander was 39 years old when he was sworn in as governor.
During two successful terms, from 1979 to 1987, he helped recruit Nissan and Saturn to the state and led Tennessee to become the first state to pay teachers more for teaching well.
"I would call him a reasonable Republican, someone who tries to work with the other side," says longtime friend Lew Conner, BA'60, JD'63. "When he was governor, his longest suit was working with the Democratic legislature."
In 1987, Alexander helped found Corporate Child Care Management—now known as Bright Horizons Family Solutions, the country's largest provider of employer-sponsored daycare. Then, following a six-month sojourn in Australia with his wife, Honey Alexander, and their young family, he served as president of the University of Tennessee from 1988 until 1991, when President George H.W. Bush named him U.S. Secretary of Education.
FAR-REACHING INFLUENCE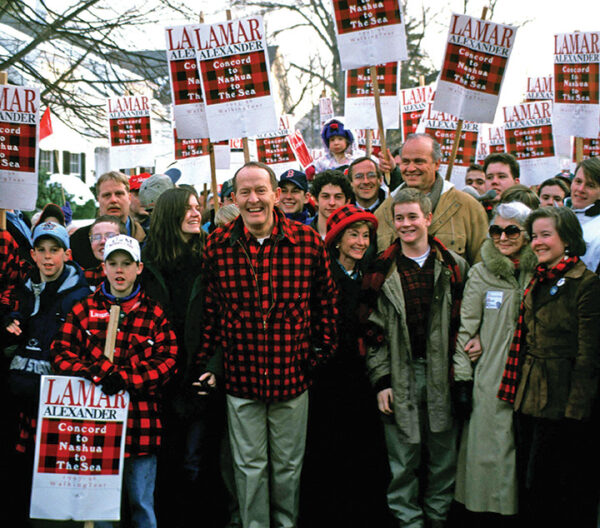 Alexander next tried bringing his Tennessee style to national politics. For a 1995–96 presidential run, he traded his feet for a red Ford Explorer and drove almost 9,000 miles across the country, again wearing plaid. He did not survive the New Hampshire primary. Four years later he dropped the plaid but spent long months politicking in Iowa. He left the race after the state's straw poll.
In 2002, Alexander ran for the seat of retiring Sen. Fred Thompson, JD'67. His win made him the first Tennessean to be popularly elected both governor and senator.
"No one living today has had more far-reaching influence on American K–12 education," says educational policy expert Chester Finn, writing recently in the journal Education Next. During Alexander's four years as chair of the Committee on Health, Education, Labor, and Pensions, "the committee reported out some 45 separate bills that were enacted into law, a remarkable accomplishment in this fraught era on Capitol Hill," Finn notes.
While colleagues burnished their ideological bona fides with heated rhetoric, Alexander always referenced history. He characterizes himself as a Lincoln Republican.
"I grew up in an East Tennessee congressional district that has never sent a Democrat to Congress since Lincoln was president," he says. "Most people there supported the Union in the Civil War."
Now that Alexander is retired from public service, he and Honey sold their Nashville residence and are returning to East Tennessee, where his family, like that of President Andrew Jackson, settled in the 1780s. It is there, outside their log house on the edge of the Smoky Mountains, that a magnolia tree with a distinguished pedigree grows.
The tree's lineage begins with President Jackson, who took a sprout from his home at The Hermitage outside Nashville and planted it at the White House in 1828. President Reagan gifted a cutting from that tree to Sen. Howard Baker Jr., who shared cuttings with John Rice Irwin, founder of the Museum of Appalachia. Irwin in turn gave a cutting to his friend Alexander.
Two years ago, the 190-year-old White House magnolia, ravaged by disease, had to be cut down. Its scion at the log house, however, now stands about 80 feet tall.
Like Jackson's tree, Alexander—a longtime statesman, husband for 52 years, father of four, grandfather of nine, author of seven books—flourished far afield. Yet the story does not end there. It continues in the same place it began, back in Tennessee, where his roots run deep.
---
Lisa Robbins is a freelance writer who lives in Massachusetts. GayNelle Doll, a native Iowan and former editor of Vanderbilt Magazine, lives in Nashville.