Media Inquiries
Latest Stories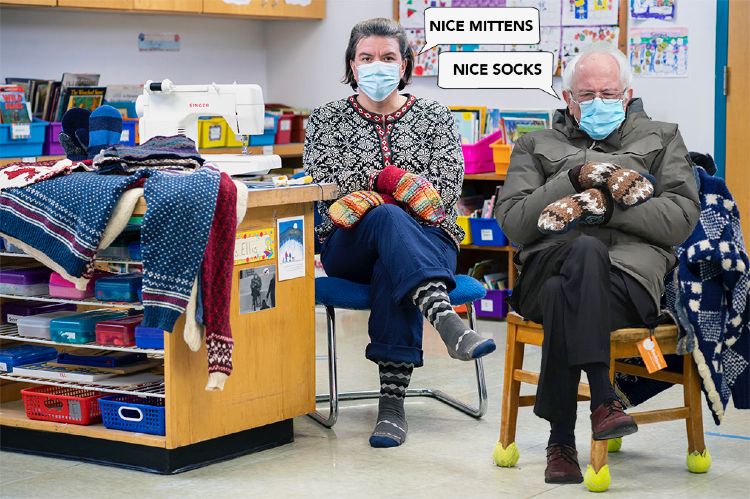 Jen Ellis, the Vermont schoolteacher who made the now-famous mittens Sen. Bernie Sanders wore to the presidential inauguration in January and have since been immortalized in countless internet memes, will discuss the story behind the mittens and how she decided to use the moment in history for good in a fireside chat with the Vanderbilt community on Tuesday, March 2.
Ellis' talk, "Making Meaningful Change out of Mittens and Memes," will be from 7 to 8 p.m. CT. Vanderbilt's residential colleges, Vandy Votes and the Office of the Vice Provost for Academic Affairs will co-sponsor the event.
"When thousands of people began reaching out to me for mittens and interviews after the inauguration, I realized I had a platform I'd never before experienced," Ellis said. "I gave Bernie Sanders a pair of mittens on a whim many years ago and forgot about it. I don't want people to lose sight of why this happened. It was actually a very simple act of kindness and generosity, that's all. The end result was a moment of collective laughter and joy during a global pandemic.
"I am still stunned at the beauty of it," Ellis continued. "I had no idea what to do when this happened; I just followed my heart and made decisions that were true to who I am. Mine is a bizarre and wonderful story, and I am excited to share it with the Vanderbilt community."
Ellis collaborates with Vermont businesses to design and create Bernie Mitten-themed products to benefit charity. These products are joyful, high-quality and help nonprofits make up for some of the revenue lost by not being able to fundraise during the pandemic.
"Jen's commitments to generosity and giving back to the community are incredible testaments to the spirit of using our talents for lasting positive change," said Jill Stratton, assistant provost for experiential learning and associate dean of residential colleges. "She has inspired so many through her generosity, and I look forward to her sharing more of her story with the Vanderbilt community during our fireside chat."
The March 2 event will include a Q&A session with the speaker and a prize giveaway at the conclusion of the program.