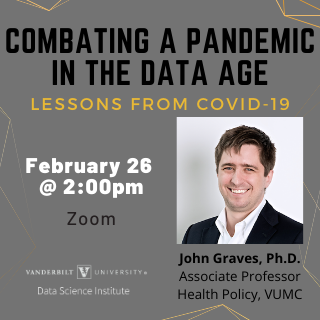 Scenarios manifested by the COVID-19 pandemic gave policymakers, doctors, city planners, biomedical researchers and many others an unprecedented opportunity to put data science to work for the common good—for all the world to see. 
A virtual discussion, "Combating a Pandemic in the Data Age," will take place on Feb. 26 at 2 p.m. CT. Registration is required. 
John Graves, associate professor of health policy and medicine and director of the Vanderbilt Center for Health Economic Modeling, will provide a behind-the-scenes look at the work of a team of economists, epidemiologists, infectious disease physicians, biostatisticians and data scientists who helped guide and inform COVID-19 response in Tennessee and beyond. The discussion is hosted by the Data Science Institute.  
The Vanderbilt Data Science Institute accelerates data-driven research, promotes collaboration and trains future leaders. The institute brings together experts in data science methodologies with leaders in all academic disciplines to spark discoveries and to study the impact of big data on society. The institute is educating students in computational and statistical data science techniques to become future leaders in industry, government, academia and the nonprofit sector. This is the first discussion in the spring speaker series.