Media Inquiries
Latest Stories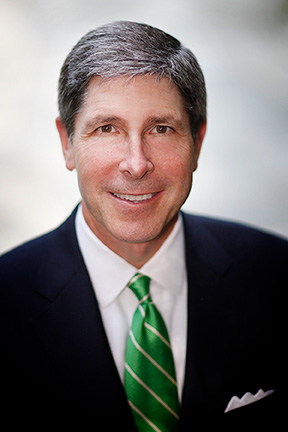 Taking in the Nashville skyline from the vantage point of his office 27 floors up, Bob Rolfe says, "I've had a lot of W-2s and a lot of crummy jobs, but this may be the most fun I've ever had."
"This" is running the state Department of Economic and Community Development. Former Gov. Bill Haslam asked Rolfe to take the commissioner's post in early 2017, and he stayed on at current Gov. Bill Lee's request.
Rolfe has scored big wins during his tenure, with companies such as Google, Facebook, Amazon and GM investing billions of dollars in Tennessee. ECD has also attracted major headquarters, including AllianceBernstein and Mitsubishi Motors North America, to the Volunteer State.
Rolfe's resume spans ditch-digging to, most recently, turning around failing companies. In between was an 18-year career at J.C. Bradford as an investment banker. While there, the executive program at Owen piqued his interest.
"It was the perfect opportunity. I didn't have to interrupt my business career to earn an MBA," he says. "Looking back, Owen is where I fell in love with learning. It was such a rich experience to be in the classroom."
Those lessons from Owen came into play as Rolfe steered small, struggling businesses back into profitability. He developed a different skill set when he stepped into the commissioner's job.
"I took the reins of a successful department," he says, with a nod to predecessors Bill Hagerty and Randy Boyd [BA'81, JD'84]. "My job is to be supportive and encourage my management teams to run their own railroads."
Like most leaders, Rolfe is uncertain about the business terrain post-COVID. "When the world resets, what will that look like?" he asks. "The trend toward remote workers is here to stay. So when we recruit a company headquarters, how many employees will actually return to the office?"
Rolfe looks forward to the challenge. "When I first took this position, I thought I was committing to two years of public service," he says. "Then I committed to help Gov. Lee with his transition. Now it's been another two years and counting, and I'm still enjoying it."
—JAN READ