Studying fossils and how they're created can give modern humans insight into hundreds of millions of years of Earth's life history, and the Vanderbilt Evolutionary Studies Initiative is hosting a free virtual presentation by one of the field's foremost experts.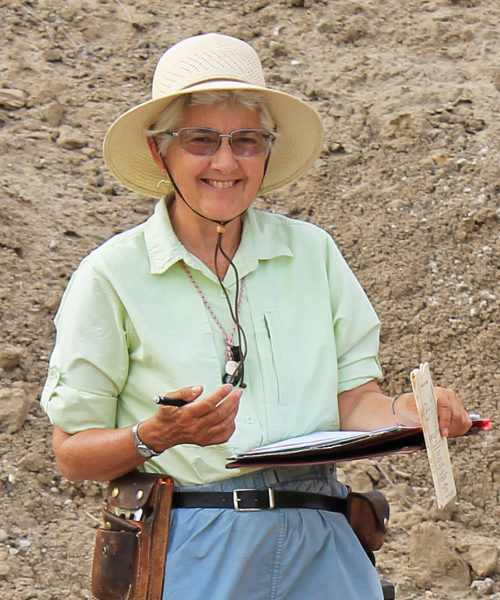 On Wednesday, Feb. 24, at 3:10 p.m. CT, Kay Behrensmeyer, senior research geologist and curator of vertebrate paleontology at the Smithsonian National Museum of Natural History, will present "Recycling and the Fossil Record: A Unifying Concept for Ecology and Paleobiology." The talk and following discussion will showcase fossilization and its relevance to our understanding of ancient life. The virtual event is open to the public, and registration is required.
Behrensmeyer is credited with developing the entire discipline of taphonomy—the study of fossilization. Her work in Africa, North America and Asia spans four decades and has aimed to understand the past 300+ million years of life on Earth. A prolific scientist, Behrensmeyer has co-edited classic books, including Terrestrial Ecosystems through Time and Foundations of Paleoecology. Her numerous research papers have helped clarify taphonomic processes, including how remains are preserved and how they affect our understanding of our own evolution.
At the Smithsonian, Behrensmeyer is a lead scientist in the Evolution of Terrestrial Ecosystems Program and the Deep Time Initiative, which resulted in the permanent exhibit David H. Koch Hall of Fossils – Deep Time. Her work has helped shape public understanding of evolution for several generations. Through the official and unofficial mentoring of countless students, she has helped diversify the field while bringing relevance to the fossil record.
In 2018, Behrensmeyer received top honors in the field of paleontology: the Romer-Simpson Medal from the Society of Vertebrate Paleontology and the Paleontological Society Medal. In 2019, she received the G. K. Warren Prize by the U.S. National Academy of Sciences and was conferred as a member of the academy in 2020.
The Vanderbilt Evolutionary Studies Initiative was established in August 2019 to unite a diverse array of scholars from a variety of disciplines with broad interests and expertise in evolution-related fields.