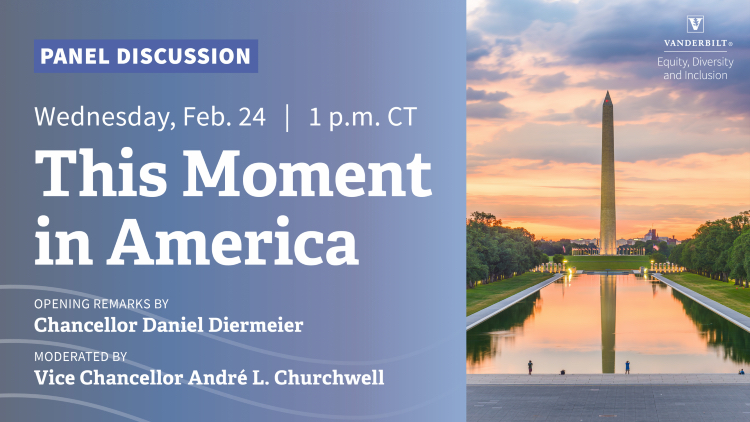 The Office for Equity, Diversity and Inclusion will host a panel of Vanderbilt faculty, staff and students to share their personal and professional views and experiences on issues that inform "This Moment in America." The virtual panel discussion is scheduled for Wednesday, Feb. 24, at 1 p.m. and is open to the Vanderbilt community, including all students, staff, faculty members, postdoctoral fellows and alumni. Registration is required.
Click here to register for the event. >>
The panel will explore the impact that recent political strife and racial divisions have had on marginalized social groups. This discussion also will touch upon topics related to police violence, immigration, the COVID-19 pandemic and changes to the U.S. Supreme Court and presidency. As a forum for open dialogue investigating polarizing issues in the national discourse, the event complements the work of The Vanderbilt Project on Unity and American Democracy and offers a means of interpreting complex and intersecting societal problems to advance equity and inclusion.
The discussion will be moderated by Dr. André L. Churchwell, vice chancellor for equity, diversity and inclusion and chief diversity officer for both Vanderbilt University and Vanderbilt University Medical Center. Chancellor Daniel Diermeier will give opening remarks.
Panelists will include:
Bitania Endalkachew, senior in Arts and Science majoring in political science and women's and gender studies; external relations liaison, FirstVU
Claire Barnett, communications coordinator, Frist Center for Autism and Innovation
Franklin Ellis, director, Provost's Office for Inclusive Excellence
Katie Crawford, Cornelius Vanderbilt Chair, professor of history and director of the Women's and Gender Studies Program
Rob Nelson, interim director, Office of LGBTQI Life
Terry Maroney, professor of law
Veer Shah, senior at Peabody College majoring in Human and Organizational Development and economics; president, Vanderbilt Student Government
Xiu Cravens, associate dean for international students and affairs, Peabody College
Audience members may submit questions for the panelists upon registration.
"The unprecedented turbulence of our times has created, for some, experiences of oppression that we are urgently called to address," Churchwell said. "By taking the time to share diverse insights within the Vanderbilt community, we are taking an important step toward understanding where we are in America now—and where we can go from here."
To submit questions for the panelists and to register for the event, click here.