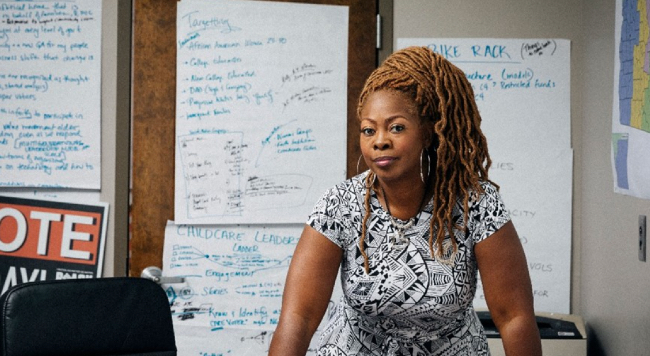 LaTosha Brown, co-founder of Black Voters Matter and a fellow at Harvard's Kennedy School of Government, will give Vanderbilt's 13th annual Murray Lecture on Tuesday, Feb. 16.
Her talk from 7 to 8 p.m. CT will be conducted via Zoom and is sponsored by The Martha Rivers Ingram Commons and the Bishop Joseph Johnson Black Cultural Center.
RSVP for the event on Anchor Link. >>
Brown is an award-winning thought leader, institution builder and cultural activist and artist. In addition to Black Voters Matter, she is co-founder of the Black Voters Matter Fund and the Black Voters Matter Capacity Building Institute. These initiatives are designed to boost Black voter registration and turnout, as well as increase power in marginalized, predominantly Black communities. Brown is a nationally recognized expert in Black voting rights and voter suppression, Black women's empowerment and philanthropy. Her voice is the nexus between the Civil Rights Movement, the Black Power Movement and Black Lives Matter.
The annual Murray Lecture is named for the Rev. Walter R. Murray, a Nashville native and Pearl High School graduate who was one of Vanderbilt's first African American undergraduates. During his time at the university, Murray served as vice president of the Student Government Association and was a founder of the Afro-American Student Association, now known as the Black Student Association.
Murray later became the first African American to serve on Vanderbilt University's Board of Trust after being elected a Young Alumni Trustee in April 1970. He served on the board until 1972. In 1974, he earned a master of management from what is now the Owen Graduate School of Management and later earned his master of divinity in 1986 from Harvard Divinity School. In 2007, in addition to establishing the memorial lecture, Vanderbilt named a residence hall at The Martha Rivers Ingram Commons in honor of Murray, who died in 1998. In 2018, Vanderbilt honored Murray with a portrait painted by world-renowned artist Simmie Knox as part of the Vanderbilt Trailblazers initiative.
To learn more about the Murray Lecture, visit the Bishop Joseph Johnson Black Cultural Center website.