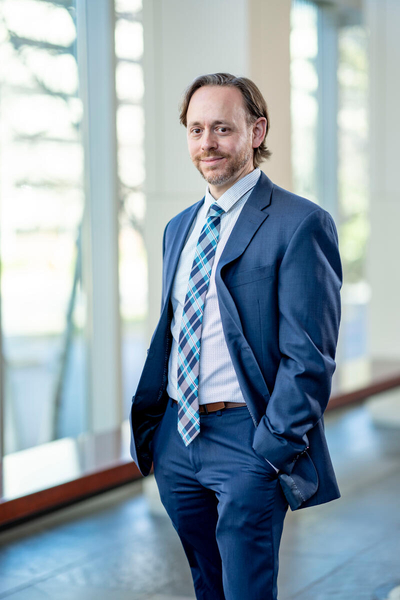 Seth Soloway, previously executive and artistic director of the Performing Arts Center at Purchase College, State University of New York, has been appointed associate dean of presenting and external relations and director of the Martha Rivers Ingram Center for the Performing Arts at Vanderbilt Blair School of Music. He joined Blair on Jan. 4.
The new position will support Blair's mission of commissioning works while bringing more professional artists to campus to bolster arts education in the Vanderbilt community and throughout the region.
"When we talk about presenting," Soloway said, "what we're talking about is bringing a larger, more consistent presence of professional artists to campus to commission new works and to work with our students, work with our faculty, work with the community and, of course, to perform. In the industry that's referred to as presenting those artists."
Lorenzo F. Candelaria, Martha Rivers Ingram Dean of Vanderbilt's Blair School of Music, describes Soloway as a driven and resourceful change leader in his industry. "Seth's creative, inclusive and forward-thinking work in the presenting field is inspirational and energizing," Candelaria said. "His dedication to building new, diverse—and enthusiastic—audiences for the arts will be a tremendous asset to Blair, Vanderbilt and the broader Nashville community."
During his tenure at SUNY Purchase, where he oversaw all aspects of a four-venue campus performing arts center, he planned and executed a shift in the mission and vision of the organization to refocus it as a vital educational hub for learners of all ages.
Soloway also has served as director of arts education, artistic director and programming consultant at the Brooklyn Center for the Performing Arts; general manager at Paramount Center for the Arts, Peekskill, New York; cofounder and artistic director of the Railroad Playhouse, Newburgh, New York; and director of booking for Off Broadway Booking, New York. He earned the bachelor of fine arts in theatre arts/directing from Marymount Manhattan College and the master of fine arts in theater arts/performing arts management from Brooklyn College.
"If a campus performing arts center can serve the university as much as it serves the community, while also giving artists a platform to make new art, we've done something really significant," Soloway said. "That's what I'm here to do."