Media Inquiries
Latest Stories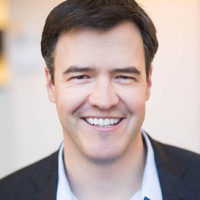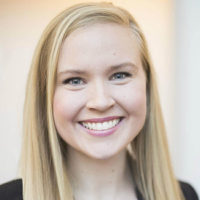 The Vanderbilt Alumni Association invited the university community to join the virtual event "Vanderbilt Changemakers: Leaf Global Fintech" on Jan. 27, featuring a discussion with Owen Graduate School of Management alumni about the company they created to provide virtual banking services to refugees and migrants.
Eric Johnson, Ralph Owen Dean and Bruce D. Henderson Professor of Strategy, hosted the panel discussion featuring Vanderbilt alumni changemakers Nat Robinson, MBA'07, JD'18, and Tori Samples, BMus'12, MBA'18, the co-founders (and CEO and chief technology officer, respectively) of Leaf Global Fintech.
Leaf offers virtual banking services to vulnerable populations in Kenya, Rwanda and Uganda, allowing them to store and transport assets across national borders through a mobile device using blockchain technology. The idea for Leaf began at Vanderbilt with support from several schools, programs and faculty members, including Bart Victor, Cal Turner Professor of Moral Leadership, and Jules White, MS'06, PhD'08, associate professor of computer science, computer engineering and biomedical informatics.
Victor and White joined Robinson and Samples on the panel, which was moderated by Johnson and included a Q&A session. Nearly 150 people attended the virtual event, the first in the new series Vanderbilt Changemakers, which features members of the university's global alumni community who are providing creative, collaborative ideas and solutions for some of the world's most pressing issues.
Robinson and Samples described how the university community played a pivotal role in Leaf's beginnings. In 2017, the two teamed up with fellow students Yalda Godusi, JD'18, and Kayla Armgardt, MBA'18, to compete for the Hult Prize, a global business competition supported by Owen and the Turner Family Center for Social Ventures at Vanderbilt.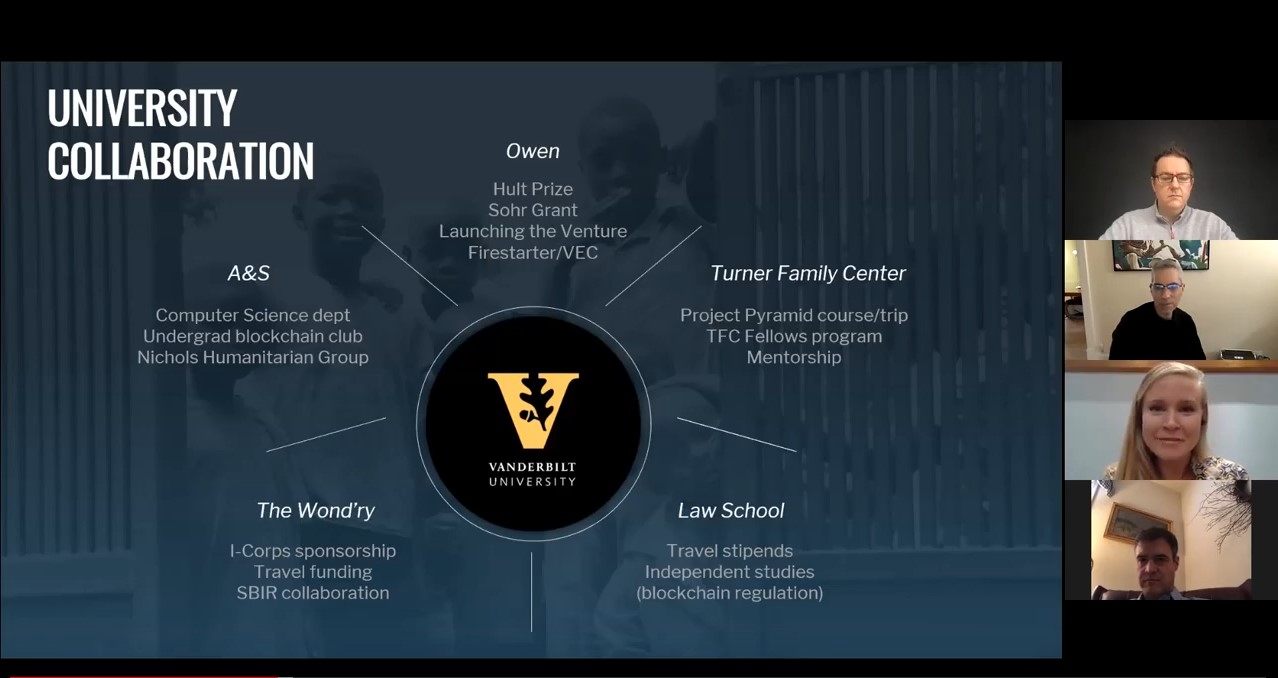 That year, the Hult Prize Foundation challenged students to come up with ideas to combat the global refugee crisis. Robinson and Samples' team advanced to the regional finals of the competition with their proposal for a social enterprise that would safely transport refugees in underutilized cruise ships. Although they did not pursue the project beyond the competition, they were inspired by the experience. A few months later they regrouped, and the idea for Leaf was born.
Samples said they took advantage of every opportunity they could at Vanderbilt and collaborated with students and faculty at Owen, Vanderbilt Law School, the College of Arts and Science, Turner Family Center, the Wond'ry, Vanderbilt's Innovation Center, and more on everything from the mechanics of blockchain regulation to securing federal grant funding and beyond.
"You hear many people say that when you're founding a startup you should look to incubators and accelerators to prove out the concept and provide resources in those early days. A university can be the best incubator of all," Samples said. "There is no accelerator or early-stage investor that could provide expertise across business, social impact, regulation and technology."
Robinson encouraged students interested in social entrepreneurism not to get discouraged by the early hurdles they may face, but to work toward "building an initial, viable product."
"Get it out there," he said. "Talk to customers. Until you start talking to customers, it's really hard to know where to get started."
Robinson and Samples also described the often-winding paths they took to get where they are today.
"I didn't come into business school thinking of myself as an entrepreneur because I tend to be a more detail-oriented person, but I've found that anyone can be an entrepreneur," Samples said. "There is space for every type of personality, every type of skill set. And we need more people from all over to dive into things that are absolutely scary and wonderful and heartbreaking at the same time."