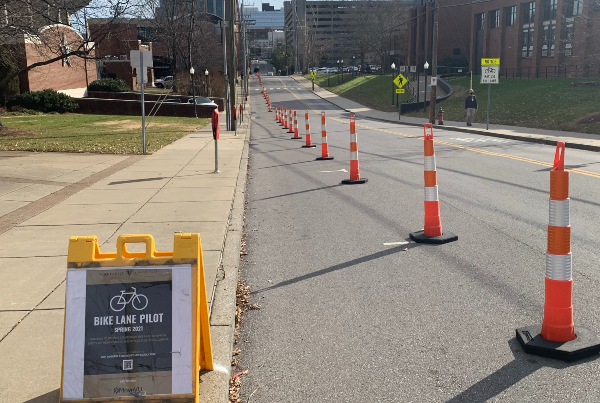 A new bike lane has been established on Jess Neely Drive from 25th Avenue to Natchez Trace as part of a pilot program to enhance safety in the area as well as help inform potential long-term changes to this corridor.
Vanderbilt is partnering with Metro Nashville Public Works this spring to create the temporary bike lane by repurposing on-street parking along Jess Neely Drive. Research in Nashville and in peer cities and on other university campuses has shown that providing protected, dedicated space for bicyclists improves both safety and comfort, making bike riding a more attractive commute option. Vanderbilt will observe whether greater separation between bicyclists and motor vehicles in the area improves visibility and safety, reduces conflicts among bike riders and drivers, and supports Vanderbilt's long-term goal of increasing bike commuting from 3 percent of all trips to 8 percent by 2025.
If you have feedback or comments regarding this pilot program, please contact movevu@vanderbilt.edu. For more information, visit vanderbilt.edu/movevu/infrastructure.
In addition, a dedicated bike lane has been established on Vanderbilt Place between 25th Avenue and the transit roundabout near Rand Hall/Sarratt Student Center as part of ongoing improvements in the West End Neighborhood. Bollards will be installed along the bike lane this spring to delineate space between bicyclists and vehicles and provide infrastructure for a range of biking activities. The removable posts also will allow flexibility for special events and other operations on campus.
Vanderbilt has been designated a bronze-level Bike Friendly University by the League of American Bicyclists. The university continues to work with its campus partners to install bike racks and dedicated parking on campus and with city partners to improve infrastructure in the surrounding area to ensure that bicycling is a safe and attractive option for transportation for the Vanderbilt community and beyond.
To learn more about MoveVU, Vanderbilt's strategic transportation and mobility plan, visit vanderbilt.edu/movevu.