Pain. Healing. Resilience. These themes are powerfully interwoven into Nashville artist Ashley Mintz's stunning new online exhibit supported by Vanderbilt University Divinity School. The visual collection, Resilient Souls: We Rest Then We Rise, will run in a fully virtual format between Feb. 1 and March 12 in celebration and reflection of Black History Month and is free to the public.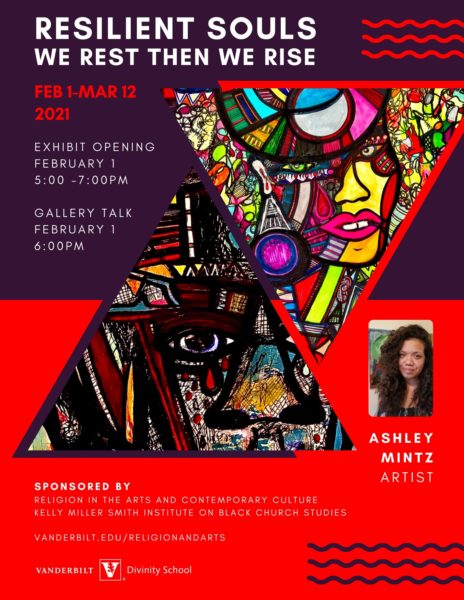 In the exhibit, Mintz abstractly explores important societal themes, all through the lens of demonstrating the resilience to keep going despite adversity. These themes have taken on new significance as our society grapples with a legacy of racial injustice and oppression underscored by a global pandemic that has disproportionately affected communities of color. "The juxtaposition of pain and healing are held in the same space within each piece, allowing each emotion to be seen and felt to open the way for healing," Mintz says.
Mintz moved to Nashville to pursue songwriting, and she still frequently composes and records instrumental music for independent films and theater productions. She discovered a love for visual media as a creative outlet that allowed her to unpack and process collective and individual trauma. Her work has been featured in collaboration with the Nashville Public Library, the Southern Festival of Books and the Scarritt-Bennett Center, among many others. Through her art, she tells stories that connect current events to historical context.
"My work compiles stories that are my own as well as those of my loved ones, my ancestors and the humble words of strangers," Mintz explains. "With themes of poverty, death, mental illness, masculinity/femininity and racial injustice, the bright colors and inclusion of words I use create underlying themes of survival, redemption and hope."
Mintz will speak about the inspiration for her collection at a virtual gallery talk to celebrate the exhibit opening on Feb. 1. She is excited to share her collection not only with the Nashville and Vanderbilt communities, but with a wider audience online. While her works tell unique personal and ancestral stories, their universal themes will facilitate connection with all visitors and prompt deeper discussion.
"This collection of works is a reflection of the natural strength we have to keep going, even in tough times, and of the need to rest and live our lives before we get back up to fight again," she adds.
Co-sponsored by the Kelly Miller Smith Institute on Black Church Studies, the exhibit is part of the Religion in the Arts and Contemporary Culture program, which is designed to create future leaders for ministry who understand and can harness the creativity of the arts for theological reflection and contemporary worship. For practicing artists and business leaders within the popular culture industry, the program is a venue for the exploration of the theological context and religious dimensions of their work.
Virtual Exhibit Information
Resilient Souls: We Rest Then We Rise will be displayed solely online, and access to the gallery will be linked here as details are finalized.
Date: Feb. 1–March 12, 2021
Exhibit opening: Feb. 1 | 5–7 p.m.
Gallery talk: Feb. 1 | 6 p.m.
Sponsored by:
Religion in the Arts and Contemporary Culture
Kelly Miller Smith Institute on Black Church Studies