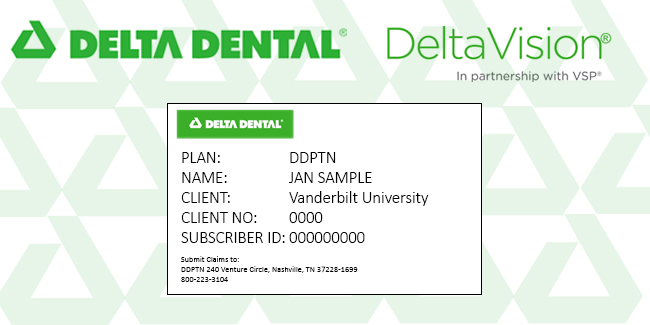 Vanderbilt University employees who enrolled in the DeltaDental or DeltaVision plan during Open Enrollment should expect to receive new ID cards in the mail. The current set of ID cards do not have an alternate ID listed on them, which leads providers to ask plan participants for their full social security number as their plan ID. Vanderbilt University believes that this sensitive, personally identifiable information should not be used because of the risk of identity theft.
DeltaDental
As a result, employees enrolled in DeltaDental should expect new cards in the mail soon and should discard their current cards. Your new DeltaDental alternate ID will be system generated and will not include your personal information, such as a social security number nor a date of birth.
DeltaVision/VSP
Employees enrolled in DeltaVision but not in the DeltaDental plan will receive a card in the mail.  If you need your card immediately, you may download or print one from vsp.com. In most cases, you do not need to bring an ID card to your vision appointments; simply state that you have DeltaVision/VSP, your name, the last four digits of your social security number and your date of birth.
If you have any questions or concerns, please contact the Human Resources Benefits Team at benefits@vanderbilt.edu.