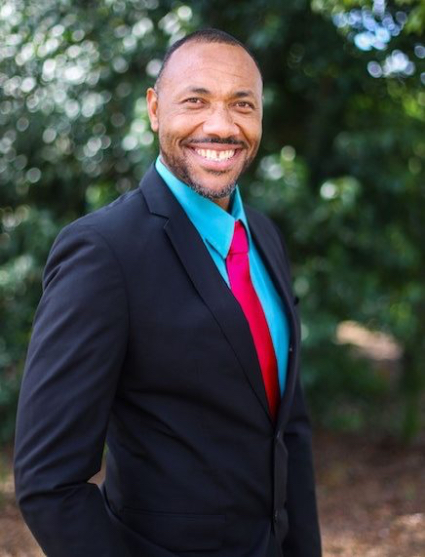 Franklin Ellis Jr., who has devoted his career in higher education to helping students of diverse backgrounds and identities succeed at the university level, has been named the new director of the Vanderbilt Posse Scholar Program. Douglas L. Christiansen, vice provost for university enrollment affairs and dean of admissions and financial aid, announced Ellis' appointment today.
Ellis, who joined Vanderbilt in October 2020 as director of the Provost's Office for Inclusive Excellence, will also continue serving in that position.
"Franklin Ellis has brought passion and strong expertise to his work fostering a community of inclusivity and belonging at Vanderbilt," Christiansen said. "His specializations in relationship-building and multicultural services are among many reasons I look forward to his leadership of the Posse Scholar program, one of the university's longest-running inclusion initiatives."
Ellis earned a bachelor's degree in psychology and philosophy from Coastal Carolina University. He then received a master's degree in mental health counseling and licensure as a clinical counselor from Wright State University. Ellis earned his doctorate in marriage and family therapy from the Chicago School of Professional Psychology in Westwood, California.
Ellis has worked in higher education for more than two decades, beginning in residential education and later transitioning to multicultural services. Before coming to Vanderbilt, he was assistant director of Intercultural and Inclusion Student Services at Coastal Carolina University.
Ellis succeeds Frank Dobson as director of the university's program, which partners with the Posse Foundation to bring New York City public school students with extraordinary leadership potential to Vanderbilt on full-tuition scholarships.
"Frank Dobson has been steadfast in creating a welcoming, supportive environment for our Vanderbilt Posse scholars and strengthening important ties between our Posse alumni and current students," said Vanessa Beasley, vice provost for academic affairs, dean of residential faculty and associate professor of communication studies. "I know I am not alone in expressing gratitude for his six years of service steering the Posse program. I am glad he will continue to make Vanderbilt more inclusive through his roles as associate dean of The Martha Rivers Ingram Commons and faculty head of Gillette House."
The Posse Scholar program is rooted in the belief that a small, diverse group of talented students—a posse, carefully selected and trained—can catalyze individual and community development. Vanderbilt Posse scholars receive training and support from not only the program staff, but also campus mentors (faculty and staff volunteers). In addition, there is a strong network of Posse alumni who maintain close contact with the current scholars.
Vanderbilt was the first university in the nation to work with the Posse Foundation when five students from New York City came to campus in 1989 to form the inaugural cohort. There are 41 current Posse scholars at Vanderbilt.