Ethiopian American novelist Dinaw Mengestu gave an impassioned personal view of growing up in an immigrant family in the United States during his keynote address for this year's annual Martin Luther King Jr. Commemorative event, hosted in partnership with the Vanderbilt Chancellor's Lecture Series. Mengestu also used recent current events to illustrate why allegiance to "American exceptionalism" allows horrific things to happen under the guise of patriotism.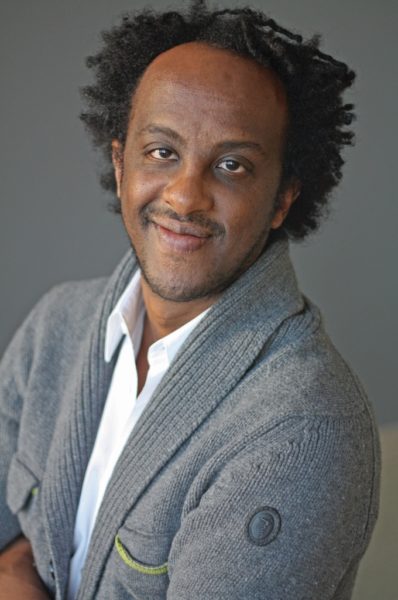 The virtual event, "At Home in the World: Place, Identity and the American Dream," took place Jan. 18 and was hosted by Chancellor Daniel Diermeier, with a discussion moderated by Karla M. McKanders, clinical professor of law and associate director of the Legal Clinic at Vanderbilt University. 
Mengestu, who has received multiple awards for his books about diverse immigrant experiences and perspectives on the American dream, defined American exceptionalism as an extreme intolerance for anyone who claims America is anything but completely good.    
He said this ideology of extreme, blind patriotism can lead to prejudice, intolerance and violence, like the recent attacks in Washington, D.C., or the fury against the Black Lives Matter movement. 
"American exceptionalism masquerades its prejudice under the flimsiest possible veil, the language of shared humanity," he said, adding, "[America's] goodness indemnifies it, pardons it, delivers it like a prayer from judgment."  
But Mengestu, who moved from Addis Ababa, Ethiopia, to Illinois in 1980 when he was a toddler, said despite all this, the immigrant American dream thrives. 
"That exceptionalism, of course, is part of the reason why my parents, like countless other immigrants, came to America," he said. "But anyone willing to leave their family, home, country, culture, language and risk their life and the lives of those they love to come here doesn't do so because they believe America is exceptional or even good. They do so because they believe America has the potential to grow into something better for themselves or their families." 
Mengestu said inflammatory, hate-filled rhetoric about race, ethnicity and immigration helped paint anyone who disagrees as a radical. But he reminded the audience that Martin Luther King Jr. was considered a radical and an extremist for his views and actions, and he quoted King's "Letter from a Birmingham Jail": 
"So the question is not whether we will be extremists, but what kind of extremists we will be. Will we be extremists for hate or for love? Will we be extremists for the preservation of injustice, for the extension of justice?" 
Diermeier stressed that MLK Day is about more than honoring an extraordinary leader—it's also about inspiring current generations to improve our nation and the world.  
"In his 1963 book, Strength to Love, Dr. King wrote, 'The ultimate measure of a man is not where he stands in moments of convenience and comfort, but where he stands at times of challenge and controversy.' As a leading research university, we have an obligation to bring our resources of scholarship, dialogue and education to bear at this critical juncture in our history," Diermeier said. 
Candlelight vigil

Before the keynote event, a virtual candlelight vigil honored the legacy of the late civil rights activist.  
"Events like today's are one way in which Vanderbilt seeks to ensure that the diverse voices, stories and perspectives that make up our nation can be heard and perhaps serve as inspiration. Discussions like these are one way that we can keep Dr. King's dream for America alive," said Dr. André Churchwell, vice chancellor for equity, diversity and inclusion and chief diversity officer.  
 Vanderbilt community members may watch a full video of the event; you must log in using your VUnetID and password. >>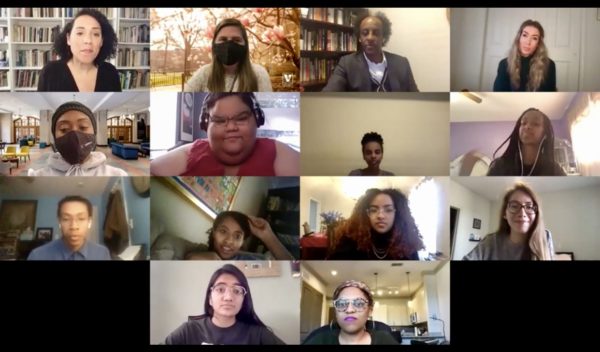 Mengestu also met a small group of students and alumni earlier in the day as part of the university's efforts to engage and encourage the Vanderbilt community to have open conversations around issues of equity, diversity and inclusion. 
Mengestu is the author of The Beautiful Things That Heaven Bears, How to Read the Air and All Our Names. He has received numerous awards for his novels, which explore issues of cultural identity and dislocation. Honors include the National Book Foundation's "5 Under 35" Award and recognition as a "Top 20 Under 40" writer by The New Yorker. 
A graduate of Georgetown University and Columbia University's MFA program in fiction, he was the recipient of the 2006 Fellowship in Fiction from the New York Foundation for the Arts and received a 2012 MacArthur Foundation Genius Award.