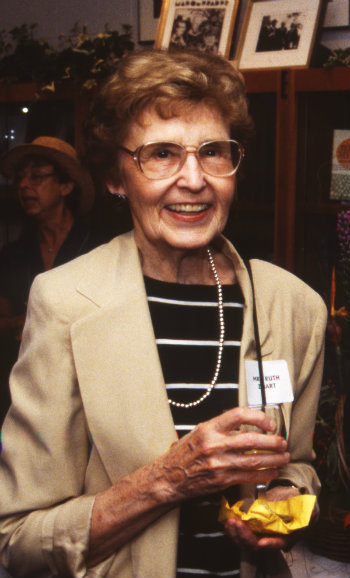 Ruth Grace Zibart, professor of French, emerita, and the first woman to serve as associate dean of the College of Arts and Science, died in Nashville on Dec. 26. She was 101.
Zibart was born on Dec. 23, 1919, in Baxter, Tennessee, to Vinnie Gentry and Lawrence Grace. She earned a bachelor of science in 1941 from Tennessee Tech University, where she received the Howard Scholarship Medal for having the highest academic average in her senior class. The next year she earned a master of arts in French from Vanderbilt.
She worked in the cryptography section of the War Department's Signal Corps in Washington, D.C., before moving to Virginia in 1945 to teach French at Marion Junior College for two years. She then taught at DePauw University until 1957, when she began alternating her DePauw teaching responsibilities with pursuit of a doctorate in French literature at the University of Michigan. Her thesis, "Montaigne's Twentieth-Century Critics," focused on the French philosopher Michel Eyquem de Montaigne. Zibart was a teaching fellow for three years at Michigan and graduated with honors in 1964. That was the same year she joined Vanderbilt as an associate professor of French.
In 1969 she married Alan Zibart, co-owner of Nashville's Zibart Brothers bookstores.
Ruth Grace Zibart was named associate dean of the College of Arts and Science in 1973. For the next 12 years, in addition to her faculty responsibilities she advised and guided Arts and Science students on their academic journeys.
"Not only was it empowering as an undergraduate student to see a woman in the dean's office, but Ruth Grace had a wonderful combination of intelligence, common sense, humor and compassion," said Julia Fesmire, BA'78, MA'89, PhD'94, principal senior lecturer in the Department of English.
Among the courses Zibart taught was one on 16th-century French literature, in which she concentrated on the women in the first half of that time period, including Marguerite de Navarre, Louise Labé and Pernette Du Guillet.
"From my first visit as a job candidate at Vanderbilt until my retirement, I was impressed by Ruth's graciousness (no pun intended) and modest professionalism," said Dan Church, professor of French, emeritus. "For many years Jo (my wife) and I were regular guests at Ruth and Alan Zibart's Thursday evening 'salon,' mingling with Nashville's literary elite. She will be remembered as one of the great ladies of Vanderbilt and Nashville."
Virginia Scott, professor of French, emerita, said that Zibart had already retired when Scott came to the department, but her name still echoed in the halls. Scott also attended the Thursday afternoon salons. "Ruth welcomed anyone who came to her door," Scott said. "Although I saw her infrequently, she always remembered my name and inquired about the department. She was elegant, joyful, 'distinguée.'"
Zibart served on many university committees during her tenure, including the executive council for the Phi Beta Kappa chapter at Vanderbilt, where she led a study on grade inflation. She also served as an adviser to the Alpha Lambda Delta and Mortar Board honorary societies. She was a member of the ad hoc Committee on Women Studies in the early 1970s.
Her professional memberships included the Modern Language Association and the American Association of Teachers of French.
Ruth and Alan Zibart enjoyed a loving and wonderful partnership until his death in 1995. She is survived by two stepchildren: Michael Zibart (Margaret) of Nashville and Eve Zibart of Washington Grove, Maryland; two step-grandchildren; and many other extended family members.
In lieu of flowers, the family suggests contributions to the Alan W. and Ruth Grace Zibart Fund for Arts and Letters at the Community Foundation of Middle Tennessee.