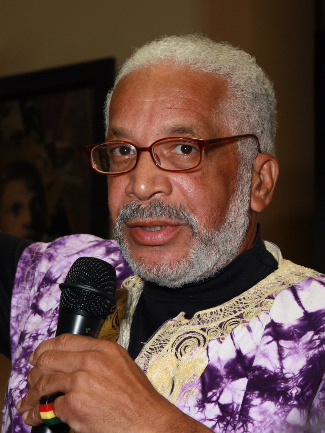 Vanderbilt leaders are reflecting on the life and legacy of veteran civil rights activist Kwame Lillard, who died Dec. 20 in Nashville. He was 81.
Lillard was among the Freedom Riders who rode interstate buses into the South in the early 1960s to challenge unconstitutional segregation practices. He helped to desegregate Nashville's lunch counters and movie theaters through sit-ins and other forms of nonviolent protest. As a contemporary of John Lewis, Diane Nash and the Rev. C.T. Vivian, Lillard worked side by side with these luminaries to change the face of activism in the United States.
The impact of this work had a profound effect on Dr. André Churchwell, a Nashville native and Vanderbilt's vice chancellor for equity, diversity and inclusion and chief diversity officer.
"As an elementary student at Meigs Elementary, Junior and Senior High School in the early 1960s, we were informed of the bravery and heroism of our senior students and black college students, which included Mr. Lillard," Churchwell recalled. "We received reports from our principal, Mr. J. K. Petway, broadcast over the school's intercom system to pray for these brave souls as they walked to downtown Nashville to sit at the various soda shop counters, to protest segregation and Jim Crow laws that were legal and enforced in Nashville and the South in general at the time.
"We owe a tremendous debt of gratitude to these leaders and the path they forged in the face of often violent opposition to make the world a better, more just and more inclusive place for us all," said Churchwell, who had discussed with Lillard before his death participating in "Civil Rights, Activism and Racism in Nashville and Beyond: Then and Now," a symposium being planned at Vanderbilt for spring 2021.
Lillard continued to serve as a leader in the Nashville community throughout his life, including as a longtime member of the Metro Council. His service frequently extended to the Vanderbilt community as well.
As recently as last January, Lillard shared his firsthand experiences in the civil rights movement with Vanderbilt students as part of the university's annual Martin Luther King Jr. Commemorative Series. He led a number of students, faculty and staff in the annual Nashville Freedom Ride tour, coordinated by the Office of Housing and Residential Experience, retracing the steps of important civil rights moments in the city's history. Participants visited several sites across the city relevant to civil rights, including historic locations at Jefferson Street, Fisk University, Meharry Medical College, downtown Nashville and the Nashville National Cemetery.
At the conclusion of the tour, students had the opportunity to reflect on the day with Lillard and discuss the strategies that Freedom Riders used to facilitate nonviolent protest, as well as innovative ways in which the students could use their voices to combat injustice.
Lillard was "overwhelmingly generous in sharing his time, wealth of knowledge and indelible experiences with our community," said Rosevelt Noble, director of the Bishop Joseph Johnson Black Cultural Center and assistant dean of residential colleges. "To hear him talk about the civil rights movement in Nashville in the 1960s was to make history come to vivid life for our students, and to challenge them to think and reflect about what that vital piece of history means to their own lives."
"We are incredibly grateful for Mr. Lillard's contributions to the cultural awareness and sense of community and self-discovery that we champion as part of our campus learning environment," said Frank Dobson, associate dean of The Martha Rivers Ingram Commons. "We celebrate his life, leadership and service—to the Vanderbilt community and beyond."