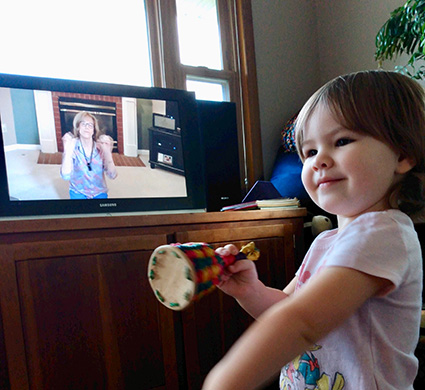 Register now for Kindermusik with your child. Kindermusik is a nationally acclaimed program designed for children from infancy to age 5.
Infants (birth-12 months) and their parent/caregiver may participate in Cuddle and Bounce and enter the wonder of music. You'll receive expert advice and parenting resources based on recent research in baby development.
Family Time is a multi-age class (infants to age 5). Discover how music helps your family laugh, share and take turns. Explore musical and developmental learning in a fun family environment. This class is offered at three different times; choose the time that fits your family's schedule.
Laugh and Learn is for children ages 3-5; adults join for the last 15 minutes. Designed for active, enthusiastic children, the class encourages vocal development, nurtures a child's ability to think musically, and gives children the opportunity to explore sound with instruments (common items you have at home).
Classes begin Jan. 13 and 14. Visit https://blair.vanderbilt.edu/blair-academy/kindermusik.php for times and additional dates.
Blair Academy is recognized by Kindermusik International as one of the "Top Programs" worldwide. Spring semester classes will be conducted live via Zoom.
From the comfort and safety of your home, enjoy connecting with other families of young children who understand and value the power of musical learning. Parents and caregivers actively participate with their children just as they would in a regular classroom setting.
Enrolled families receive access to Kindermusik@Home so they may extend the learning. Amy Alley, Kindermusik educator, has more than 20 years of teaching experience. She is the author of Kindermusik University Fundamentals Course for educator training and a member of Kindermusik's Peer Licensing Board.