Media Inquiries
Latest Stories
According to many medical experts, reduced social mobility—defined here as social contact and travel within and among communities—is a necessary factor in containing the spread of COVID-19. Joshua Clinton, professor of political science at Vanderbilt University, led a team of researchers to analyze data from more than 1 million U.S. adults, determining that partisanship is more closely related to social mobility during the COVID-19 pandemic than the incidence of COVID-19 cases or deaths in the community. The research, "Partisan Pandemic: How Partisanship and Public Health Concerns Affect Individuals' Social Mobility During COVID-19," was published by the American Association for the Advancement of Science in Science Advances on Dec. 12, 2020.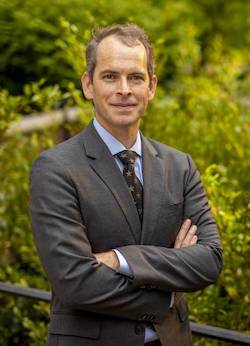 "Though other researchers have explored the correlation between political party and beliefs about the pandemic, no other study has been conducted at this scale," Clinton said. "We were fortunate to partner with experts at NBC, Survey Monkey and the University of Pennsylvania, which allowed us to do something no other researcher had done—interview over 1 million people over the course of the pandemic."
Between March and April 2020—the first month of the pandemic—Democrats and Republicans indicated similar levels of concern about COVID-19 and a common commitment to reducing social mobility. However, in April, the percentage of Republicans who indicated they were "very or somewhat worried about COVID-19" began to decline while the level of concern remained stable among Democrats. The reduced concern about the pandemic among Republicans was associated with their faster return to social activities, regardless of the rate of infections in their communities. By September, Republicans were engaged in nearly double the number of social activities per day than Democrats.
"Among political scientists, the question began to emerge whether it would require a public health crisis or a natural disaster to unify the country again," Clinton said. "Our research suggests, however, that the COVID-19 pandemic did nothing to weaken the levels of political polarization we see throughout our society."
Clinton and his team explored the impact of several public health statistics—including infection rate, hospitalization rate and death rate—and found little evidence that rising rates for any category resulted in reduced social mobility among Republicans, further supporting that partisanship had a greater impact on social mobility than public health data. Clinton and his team controlled for additional variables, including socioeconomic and demographic variances, in participants. Moreover, they compared participants within the same state to ensure correlation was independent of state-level policies for social distancing.
Clinton believes that, at first, the fear from the pandemic created a unifying effect, resulting in a nationwide decrease in movement and social interactions. However, once the pandemic became more politicized in April as a result of positions being taken by national leaders, Republicans became less focused on social distancing as a solution to mitigate the spread. Clinton attributes some of this change in behavior to a difference in priorities between the two parties, with Republicans typically focused on reopening the country to benefit the economy while Democrats viewed containment of the pandemic as the key to economic recovery.
Moreover, Clinton points to a growing polarization in media consumption across party lines as an influential factor in mobility decisions. The effect of partisanship on mobility was strongest among participants who consumed more news.
After disaggregating and analyzing the data, Clinton and team concluded that partisanship is a stronger determinant of social mobility decisions than public health data. They assert that "the COVID-19 pandemic in the United States is currently as much a political problem as it is a public health problem." Clinton believes that stronger political leadership may help reduce social mobility among Republicans— considered by public health experts as a necessary step for reducing transmission and controlling the pandemic—but he also recognizes that it may be hard to change those opinions at this point given how long the pandemic has been politicized.
Clinton and his team are intrigued to see the impacts of a new presidential administration and the deployment of vaccines in 2021. He said of the study, "It was important to engage in this project not only because it was timely from a national perspective, but because it also aligned with pandemic research and innovation happening across the Vanderbilt campus."