Media Inquiries
Latest Stories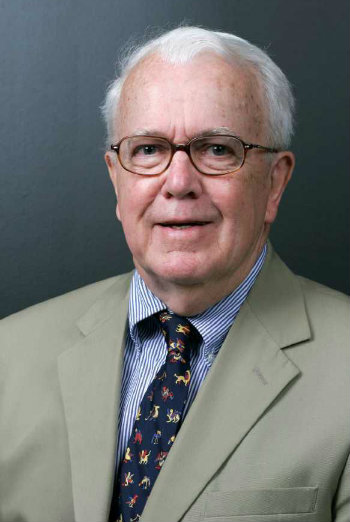 Franklin Hamilton Hazlehurst, a Vanderbilt University professor of fine arts, emeritus, whose longtime leadership helped transform the Department of History of Art and Architecture, died on Nov. 12. He was 95.
"Hamilton Hazlehurst was the epitome of the gentleman scholar," said Leonard Folgarait, Distinguished Professor of History of Art and Architecture and professor of English. "A respected teacher, a rigorous researcher and a pioneering administrator, he believed deeply in all things Vanderbilt. He is also remembered as a dedicated booster of French culture in all of its aspects."
Hazlehurst was born on Nov. 6, 1925, in Spartanburg, South Carolina. After graduating from The Hill School in Pottstown, Pennsylvania, he enrolled at Princeton University, where he earned a bachelor of arts and a master of fine arts. He then studied in Paris as a Fulbright Fellow before returning to Princeton to earn a doctorate in French Baroque architecture and garden design in 1956.
Hazlehurst began his career as a lecturer at the Frick Collection in New York City and an associate professor at the University of Georgia before coming to Vanderbilt in 1963. When he arrived on campus, the Fine Arts faculty consisted of a sculptor and a painter. Hazlehurst worked to expand the department to more than a dozen faculty while serving as chair for 27 years.
While Hazlehurst was laying the foundation for a research collection of original art works, he promoted the growth of the Vanderbilt Art Association to gain support for his initiative. During his tenure as chair, thousands of art objects were acquired, many through his own efforts.
Hazlehurst's contributions to French culture focused on his study of the elaborate formal gardens of 17th-century France, particularly those designed by the renowned André Le Nostre. Hazlehurst's Gardens of Illusion: The Genius of André Le Nostre was first published by Vanderbilt University Press in 1980 and reprinted four times. The book was awarded the Alice Davis Hitchcock Award from the Society of Architectural Historians.
The first French-language edition of Gardens of Illusion was published in 2005, and Hazlehurst was honored the next year by the French Ministry of Culture for having made significant contributions to French arts and literature. During a ceremony at the American Embassy in Paris, he was awarded the title of officier.
"Hamilton was the most effective and brilliant scholar of French landscape architecture, including Versailles," said Robert Mode, professor of art history, emeritus. "He also elevated the scholarly profile of our department by working to bring major art collections to Vanderbilt, such as the Samuel H. Kress Collection." An exhibition that includes 11 of the 14th- through 16th-century paintings is scheduled to open in the Fine Arts Gallery in November 2021.
Mode also cited Hazlehurst's successful efforts, with support from the Kress Foundation, to house the Contini-Volterra Photographic Archive at Vanderbilt.
Hazlehurst's many recognitions included the Madison Sarratt Award for Teaching Excellence in 1970 and the Alumni Education Award in 1986.
Hazlehurst, who became an emeritus professor in 1995, led many popular tours abroad during academic breaks. He was widely admired by students and alumni for his ability to capture the unique qualities and little-known facts of various destinations. He was a patron and respected adviser to the Vanderbilt Fine Arts Gallery.
He also served as president of the Southeastern College Art Association and as co-chair of the Cheekwood Acquisitions Committee.
Hazlehurst is survived by his wife, Carol Foord Hazlehurst; and four children: F. Hamilton Hazlehurst Jr., Robert P. Hazlehurst II, Hadley Hazlehurst Mullen and Abigail Hazlehurst Karroubi. He also has four grandchildren and seven great-grandchildren.
Because of COVID-19, memorial services will be delayed until it is deemed safe to gather.
In lieu of flowers, memorial gifts can be made online or mailed to: Fine Arts Gallery at Vanderbilt University, PMB 407727, 2301 Vanderbilt Place, Nashville, TN 37240-7727.