Vanderbilt University Professor of Mechanical Engineering, Computer Science and Otolaryngology Nabil Simaan has been named a top voice in health care robotics by technology discovery platform InsightMonk and market intelligence firm BIS Research.   
According to a release from BIS Research announcing the recognition, "health care robotics is making a pivotal impact on every element of the health care ecosystem, which has enabled meaningful diagnosis, effective complex surgeries, assistive therapy and improved survivorship."  
Within his Advanced Robotics and Mechanism Applications lab, Simaan's work is focused on designing robotic systems and mechanisms for medical applications. At Vanderbilt, this work has included the development of high-dexterity snake-like robots for surgery, steerable electrode arrays for cochlear implant surgery and robotics for single-port access surgery.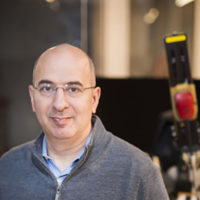 "Our lab is working to achieve holistic improvement to the way that robotics help deliver health care and in providing a cadre of robotics to researchers whose innovation is driving the medical robotics industry," said Simaan, also a faculty affiliate of the Vanderbilt Institute for Surgery and Engineering. "This recognition is indicative that we're moving in the right direction, and I am glad to be included in such an esteemed group."  
Simaan's current work includes the development of robotic tools that deliver reliable, accurate and safe ocular therapeutics to reverse cell degeneration and vision loss, the development of situational awareness technology to improve the way humans manipulate robots in remote settings, and the enhancement of a new class of "continuum robots" that can achieve large-range motion with millimetric accuracy and short-range motion with micrometer-scale precision.  
These technologies have been translated from the lab to industry through multiple licensing agreements, including that involving the formative technology behind Auris Health. And Simaan's single-port surgery robot is the research prototype behind Titan Medical's Single Port Orifice Robotic Technology.  
"Refining and improving the delivery of health care through robotics has incredible potential, and Dr. Simaan's translational work is at the bleeding edge of the field," said Benoit Dawant, Cornelius Vanderbilt Professor of Engineering and director of VISE. "VISE's schema has served to rapidly bring his work from the bench to the operating room, and we are looking forward to continued successful collaborations."  
"Top 25 Voices in Healthcare Robotics recognizes the path breaking efforts of an eminent group of thought leaders whose 'vision and work' disrupts the healthcare industry in general and healthcare robotics industry in particular. Nabil Simaan, an esteemed part of this compendium, has used his expertise in human-robot interaction, robotic systems for surgical assistance, robot-assisted manufacturing, and robot mechanisms to further the enablement of new surgical paradigms and reduction of surgical errors," said Arvind Pal, community head of InsightMonk. 
"Dr. Simaan embodies the qualities required of a researcher who will leave a mark on not only his field, but the way innovative science reaches the public. His dedication and commitment to his work are examples to his colleagues, and have led to this recognition as a thought leader in health care robotics," said Philippe Fauchet, Bruce and Bridgitt Evans Dean of Engineering.   
Simaan joined Vanderbilt in 2010. He received the NSF Career award for young investigators to design new algorithms and robots for safe interaction with the anatomy. He is a fellow of the Institute of Electrical and Electronics Engineers and has served as editor for IEEE International Conference on Robotics and Automation, associate editor for IEEE Transactions on Robotics, editorial board member of Robotica, area chair for Robotics Science and Systems and corresponding co-chair for the IEEE Technical Committee on Surgical Robotics. He received his Ph.D. from Technion, the Israel Institute of Technology, in 2002.