Madeleine K. Albright and Gen. Colin L. Powell called for a return to civility, communication and compromise in U.S. domestic politics, as well as foreign relations, during their conversation for the first Vanderbilt Chancellor's Lecture Series event of the 2020–21 season.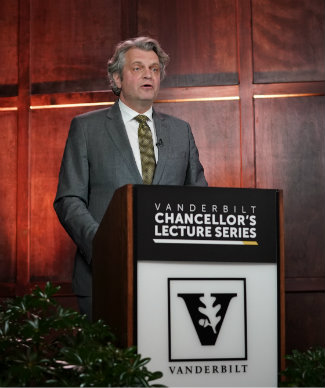 Chancellor Daniel Diermeier hosted the Nov. 16 event, the first virtual one in the history of the university's flagship lecture series. He noted in his introductory remarks the timeliness of having Albright and Powell, two former U.S. secretaries of state, discuss the next chapter in U.S. foreign policy.
"Given the historic challenges and changes that our nation has faced in recent weeks and months, I cannot think of a more meaningful moment to learn from these renowned leaders," Diermeier said. "Their accomplishments exemplify global leadership, perseverance and a commitment to excellence in values that we uphold and hold dear at Vanderbilt."
Albright was the first woman to serve as U.S. secretary of state when then-President Bill Clinton appointed her in 1997. She also was a member of former President Jimmy Carter's National Security Council. Powell, a retired four-star general who worked in four presidential administrations, became the first African American secretary of state when President George W. Bush appointed him in 2001.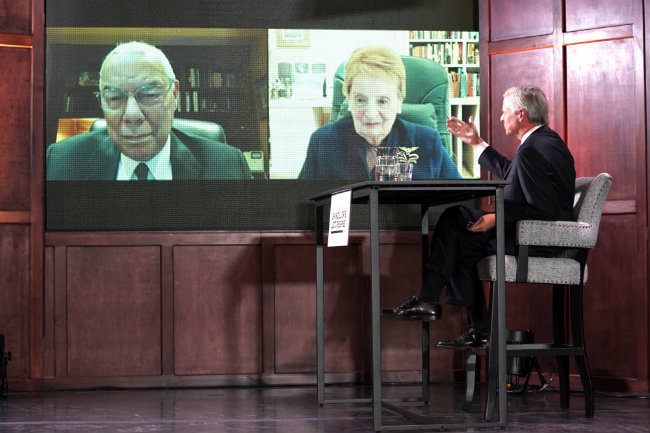 Jon Meacham, who holds the Carolyn T. and Robert M. Rogers Chair in American Presidency, moderated the discussion, asking the two prominent diplomats if they believe that America can still be that "shining city upon a hill," a metaphor for the nation that the late President Ronald Reagan used in his farewell address.
Albright responded that the city upon a hill remains but has been obscured recently by behavior that puts to question what America's role in the world is. "I hope very much that it will gleam again because, as someone who came to this country as a young immigrant fleeing Communism, I want to see the example of American democracy clearly once more."
Powell, whose parents were Jamaican immigrants, said that he grew up on a South Bronx street where nearly everyone had come from another country. "We have a real challenge in front of us right now—to return to being the nation that we all love and to the people that we all love. We also want to do it because the world is looking at us. What happened to the nation that created the U.N. and NATO? Why are we acting in such an outrageous manner?"
Meacham, noting that the two speakers held an office created by Thomas Jefferson, asked for their perspectives on the root causes of the recent deterioration of America's democratic institutions.
"We did not fully understand some of the divisions that have been existing in the country," Albright said. "They were not created by the current president, but he and others from the outside have exacerbated them." She added that racism, which some people have not acknowledged until recently, and the pandemic have added to the complexity of the divisiveness.
Powell recommended that the top three priorities for the next administration be the COVID-19 pandemic, immigration and education, "All of our young people have to obtain a quality education, but we also have to improve many of their living conditions," he said.
With regard to foreign policy, Albright recommended that the United States be open to exploring different relationships with China—a busy and rising economic power. "There are various areas where they are our adversaries, our competitors; however, there are also many places where the United States and China can cooperate," she said. "That is the art of statecraft." She urged a reinvigoration of America's diplomatic service.
Powell echoed Albright's perspective. "A capability does not became a threat until it becomes an obvious statement of attention to attack us," he said. "Most of the nations that I worked with were open to our discussions. There's a way of dealing with problems short of conflict of the international kind."
Meacham's final question was what would Powell and Albright most like to see higher education do to address the nation's challenges. "I think we have a fairly competent higher education system," Powell said. "The education system I worry about most begins much earlier. Are we providing our kids a good start to life?"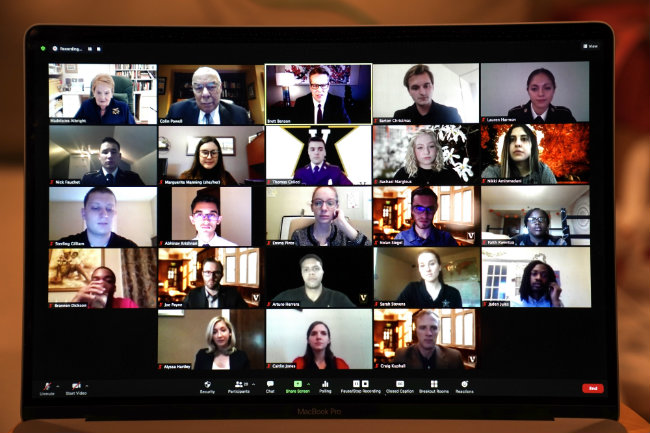 Albright said that when it comes to higher education, she would put additional resources in international education, such as a broader curriculum for those who want to pursue international relations. "We must prepare our students for the multicultural, multiethnic 'many countries' world that our students will work in, but I also fully agree with what Colin said about the importance of early childhood learning."
The Chancellor's Lecture Series is the university's flagship event series that strives to connect the university community with leaders and visionaries who are shaping our world. The events include and host globally known speakers whose influence and expertise are especially relevant and timely to the issues of the day.
For more information, visit the Chancellor's Lecture Series website, or email cls@vanderbilt.edu.