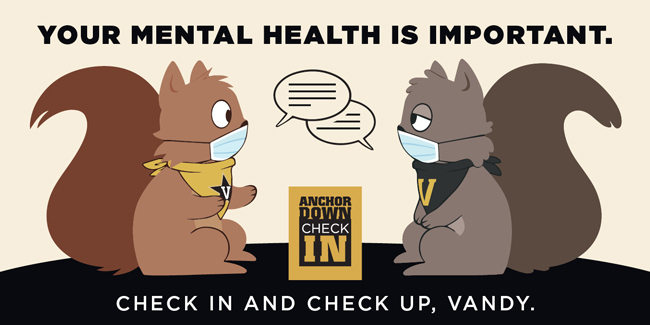 While many Vanderbilt students will be physically distant from campus over the extended winter break, the Student Care Network is committed to ensuring that students do not feel disconnected from campus support services. Below are a few answers to common questions related to the upcoming winter break transition that will help you connect with support.
Do you need immediate help in support of your mental well-being?
If you would like to speak to someone about an immediate concern, the University Counseling Center offers urgent care counseling Monday through Friday, from 10 a.m. to 4 p.m. To speak with a counselor, contact the UCC by calling 615-322-2571 to be seen virtually by an on-call clinician. Immediate phone support is available 24/7.
There are also a number of other resources available to students, including:
Are you feeling overwhelmed with exams?
If you are feeling overwhelmed with exams, the Center for Student Wellbeing (CSW) has a number of offerings available to students, including:
Students also are encouraged to engage with tutoring or STEM drop-in to better understand course material.
Attending a drop-in consultation at the University Counseling Center (UCC) to learn stress management techniques also can serve students well before or during exams. LGBTQIA+ students are especially encouraged to visit drop-in consultation for LGBTQIA+ students on Nov. 17 and Nov. 19 from 2 to 4 p.m. if they desire support in creating a wellness plan to use while they are home for the extended winter break.
Are you a first-year student worried about "The Flip"?
If you're concerned about "The Flip," talk through your concerns with a counselor at the UCC by attending a drop-in consultation.
The Flip website outlines the process and presents step-by-step instructions that cover all the key tasks, including scheduling a virtual health and safety inspection Nov. 16–22, where to find packing supplies in the lobby of your residence hall, and tips and instructions on how to pack various items.
The key is to plan ahead to spread out the work so it doesn't feel overwhelming. Pack your non-essentials first, and reach out to ohare@vanderbilt.edu with any questions or concerns you have along the way.
How can I stay connected to my friends over winter break?
The best way to stay connected to friends over winter break is to make plans before you leave campus to FaceTime, Zoom or connect with your friends through other means. This can include planning a virtual study session to prepare for finals, or purely social virtual connections. And if you're tired of looking at screens, consider sending your friends a postcard or letter over the winter break.
What services for wellness support are available while I am away from campus?
Students can visit the websites for the Office of Student Care Coordination (OSCC), Center for Student Wellbeing, University Counseling Center or the Student Health Center (SHC) to learn more about their services over winter break:
The Student Care Network is open during the winter break excluding official university holidays (Nov. 25–27 and Dec. 23–25, Dec. 31–Jan. 1 and Jan. 18.)
The University Counseling Center Urgent Care is available on holidays and after hours. Students can call the UCC at 615-322-2571 and be connected to a licensed counselor. If a student is outside of Tennessee, urgent care will take place via phone and not video.
Students needing assistance from the Student Health Center should call 615-322-2427 or message their provider using My Health At Vanderbilt. The Student Health Center emergency consultation services are available by phone 24 hours a day, seven days a week and are staffed by on-call professionals.
Students on the Student Health Insurance Plan (SHIP) also have access to HealthiestYou, a telehealth platform offering free access to board-certified physicians, licensed therapists and psychiatrists. Students can schedule a counseling appointment by phone or video from 7 a.m. to 9 p.m. Prescriptions can be sent to a student's preferred pharmacy. Download the HealthiestYou (HY) app or call 855-870-5858 to get started.
And don't forget to log in to your free Headspace account to practice meditation and mindfulness.
How can I find support or medical providers in my geographic area?
After leaving campus, students can utilize the Office of Student Care Coordination's "Guide to Off-Campus Referrals" to learn more about what to look for when seeking an off-campus provider. In addition, Vanderbilt has partnered with  The Shrink Space, a therapy database that can help students find providers off campus in Nashville and across the country.  Students can create a free account with their Vanderbilt email address and search providers in Nashville or in another state. Students can use filters to search by insurance provider, gender identity, sexual orientation, race/ethnicity, religion, language and several other factors to find their best match. Students can even reach out to providers directly through the HIPAA-compliant Shrink Space website. Watch the video to learn more about how the platform works.
What if I am switching to remote study for the spring semester?
If you are a student switching to remote study for the spring semester, the Student Care Network will continue to support you with virtual services while you are away from campus. Reach out to the Office of Student Care Coordination (OSCC) to learn more about the services that are best tailored to meet your specific needs. In particular, My Student Support Program (My SSP) is a free, 24/7 confidential support program for Vanderbilt students designated by the Registrar's Office for remote-study students and those living outside the state of Tennessee or abroad.
My SSP provides free access to confidential counseling services, as well as a variety of well-being resources, including articles, assessments and virtual fitness sessions. Real-time support is available by phone and live chat (no appointment needed), and students also may schedule video appointments. My SSP counselors who speak Spanish, Mandarin, Cantonese, French and English are available. For other language preferences, students may request an appointment with a counselor who speaks their preferred language depending on availability.
Remote study students living  outside of the state of Tennessee or abroad  can connect with My SSP by downloading the "My SSP" app from their device's app store, calling  1-866-743-7732  (U.S. calls) or  001-416-380-6579  (international calls), or by visiting  us.myissp.com.  International calling charges will apply unless you either call via Wi-Fi or opt to "call collect" by finding the collect call service for the country in which you are located, and request to make a collect call to  001-416-380-6579. My SSP will accept the collect call charges. Watch the video to learn more about what the app has to offer.