Vanderbilt University will honor the service of military veterans and celebrate their unique contributions to campus culture through a series of videos, social media posts, photo exhibitions and more to commemorate Veterans Day on Wednesday, Nov. 11.
"Whether they are students, alumni, faculty or staff members, our veterans set an inspiring example," Chancellor Daniel Diermeier said. "They embody the character and resilience that enables us to achieve our common purpose. They strengthen our community and our ties to our nation. They contribute a vital perspective to our collective knowledge.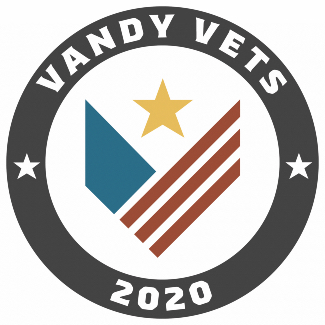 "Veterans understand deeply the meaning of leadership, service and community—values that are at the core of our identity as a university," Diermeier said.
Vanderbilt's Army and Naval Reserve Officers Training Corps programs and the Bass Military Scholars Program commissioned the creation of a "Vandy Vets" logo that was made into a lapel pin and distributed to veterans on campus as well as to alumni. University students, faculty and staff who are veterans and wish to receive a pin may contact robert.b.hulette@vanderbilt.edu. Vanderbilt University Medical Center students, faculty and staff veterans may contact catherine.s.wilson@vumc.org.
The logo also appears in two virtual backgrounds available for download and use on Zoom to show users' status as a veteran or support for veterans on campus.
Beginning Nov. 9, the university's social media channels will share content saluting Vanderbilt Veterans, including video messages from Lt. Gen. R. Scott Dingle, surgeon general of the United States Army and commanding general of U.S. Army Medical Command, as well as from Chancellor Diermeier. Other videos will feature Vanderbilt's Bass Military Scholars, the ROTC program's commanding officers discussing campus landmarks significant to military history, and archival photographs and artifacts from the Jean and Alexander Heard Libraries Special Collections and University Archives.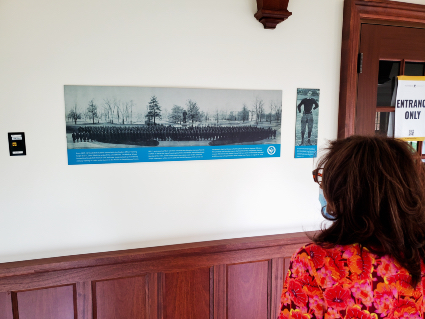 In addition, photographs and artifacts from Special Collections will be on display in exhibits at E. Bronson Ingram College and the second-floor gallery of Vanderbilt University Medical Center throughout the week.
"We appreciate [veterans'] selfless courage and determination, qualities that are essential to face the many challenges confronting our society today," Diermeier said. "Thank you for your service to our country."