Media Inquiries
Latest Stories
Vanderbilt students recently had the opportunity to make their own stylish and unique "designer" face masks at multiple mask-making sessions led by Vanderbilt costume shop manager and senior lecturer Alexandra Sargent Capps at the Wond'ry, Vanderbilt's Innovation Center.
"I think, especially in a time when so much of our world is virtual, it's important to have tactile connections, so taking fabric and notions and learning to physically make something is empowering and builds confidence," she said.
Capps filled tables with inspiring materials, including fabrics, trims, patches and bric-a-brac, along with assorted mask patterns. She helped students use human-centered design techniques taught through Vanderbilt's DIVE (Design as an Immersive Vanderbilt Experience) program to create masks that would be an ideal personal fit. And she taught some first-time crafters how to properly use a pattern and sewing machine.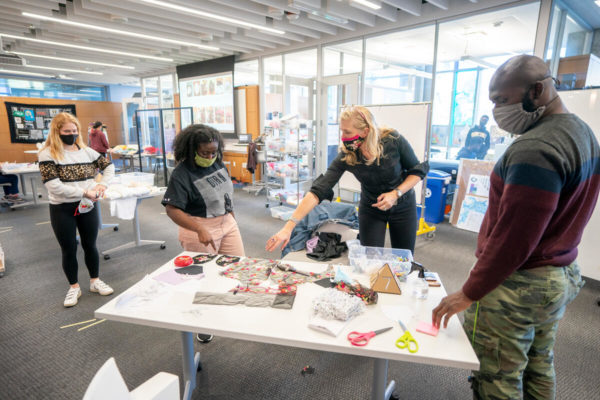 "The workshop was a blast, and everybody's  mask  was truly unique," said English major Clara McMillan, a sophomore from Minneapolis. "Masks are not exactly a fun thing to wear. After all, this is a pandemic. But since they're necessary, personalized  masks are a great way to express ourselves when we can't show facial expressions."
Capps, who teaches classes on the history of fashion and fashion sustainability—and who designed the uniform for Vanderbilt's mascot, Mr. Commodore—noted that masks started off being very plain with the goal of blending in. But as safety protocols have expanded, masks are becoming both functional and fashionable.
"My big takeaway from planning and running  the workshops is that the students and their creativity are inspiring," Capps said.
Make your own mask
Capps said you don't need a sewing machine to make a mask, but it helps. Here are step-by-step directions and a pattern to get you started.