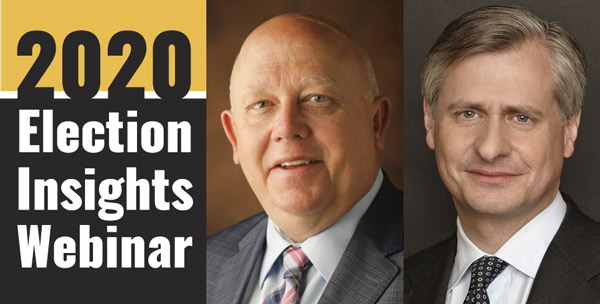 Vanderbilt University alumni were offered the unique opportunity this fall to hear two of the country's foremost political science experts, John Geer and Jon Meacham, discuss the U.S. presidential election in the four-part webinar series, "The 2020 Election: The Good, the Bad and the Ugly."
"This is a historic election, taking place in a polarized environment," says John Geer, Ginny and Conner Searcy Dean of the College of Arts and Science and professor of political science. "These discussions aim to contextualize the election and put it into historical perspective, while avoiding the partisanship currently gripping the country."
The webinar series also offers a glimpse into U.S. Elections, the popular undergraduate political science course Geer and Meacham are co-teaching this semester with political science professors Joshua Clinton and Eunji Kim. Offered only during presidential election years, this year the course is online with nearly 830 students enrolled, making it the largest class in Vanderbilt's history.
Geer and Meacham offer invaluable election analysis informed by their respective backgrounds and research. Geer co-founded the Center for the Study of Democratic Institutions and co-directs the influential Vanderbilt Poll with Joshua Clinton, Abby and Jon Winkelried Professor of Political Science. Geer has published widely in the field of elections and public opinion.
Meacham, a Pulitzer Prize–winning author and holder of the Carolyn T. and Robert M. Rogers Chair in American Presidency at Vanderbilt, has penned biographies of Thomas Jefferson, Andrew Jackson, George H.W. Bush and others, including, most recently, the late congressman and civil rights leader John Lewis.
"This is the first election taking place in a time where the country is both mindful of structural racism and structural partisanship," says Meacham. "There is a sense now that partisan feeling has the status of immutable truth—people tend to believe their party is right no matter what."
Recordings of the webinar series are available at VUconnect.com/virtual as part of the Vanderbilt Alumni Association's virtual offerings designed to provide alumni with ways to stay connected with the university community.