Media Inquiries
Latest Stories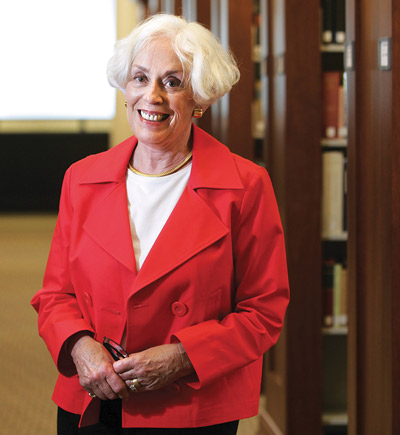 Iris W. Buhl, a longtime community educator, volunteer and philanthropist in Nashville, died Aug. 11, 2020. She was 77.
Born in Nashville, she attended Donelson High School and George Peabody College for Teachers, now Vanderbilt Peabody College of education and human development, where she earned her bachelor's degree in English and 10 years later earned a master's in special education. While an undergraduate, she participated in the civil rights movement and worked with a project studying changes in racial attitudes.
After graduation she worked at the Regional Intervention Program training parents of children with behavioral disorders. She was the second president of the auxiliary board of the University School of Nashville and a member of the school's board of trustees from 1981 to 1985.
In 1987 she began volunteering at Nashville CARES, a Middle Tennessee organization dedicated to advocacy for those living with HIV/AIDS, where she eventually became development director and sat on the board of directors twice. In 2007 she was appointed to the Metro Nashville Human Relations Commission by Mayor Bill Purcell. She was volunteer chair of The Brooks Fund History Project, and she sat on the board of directors of Nashville Public Radio. Among the honors she was given for these and other efforts were the 2007 Ally Award from the Human Rights Campaign, the Community Nashville 2013 Human Relations Award, the Thomas J. Powell Award for Community Service, and a Certificate of Appreciation by Gov. Bill Haslam in 2014.
Nashville CARES announced the Iris Buhl Philanthropy Award on Sept. 9. The agency planned to honor the longtime donor with a philanthropy award at its virtual gala that was held Aug. 22, 2020. When Buhl passed away on Aug. 11, before the award could be bestowed, they decided to name the award in her honor.
"Nashville CARES would not be where it is today if not for Iris Buhl's own generosity and the way she challenged others to give of themselves and their finances," said Debbie Barnett, director of marketing and communications at Nashville CARES. "If you didn't know Iris but live in the Greater Nashville area, you most likely have been impacted by her because of all the incredible philanthropic work she has done throughout the community."
She was preceded in death by her husband, Arthur H. "Mike" Buhl III, BA'68, MA'70. She is survived by her son, a brother and a nephew.