Media Inquiries
Latest Stories
An IQ for Talent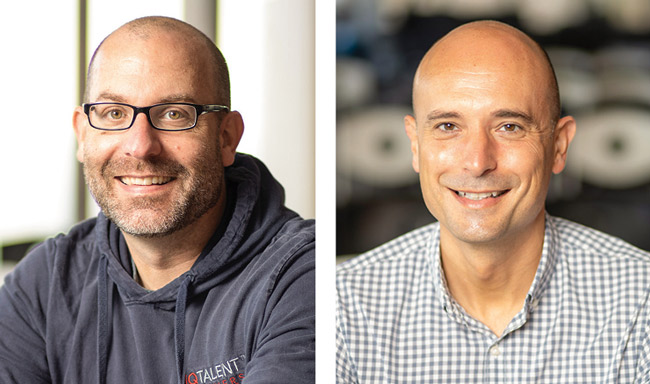 Their first semester on campus, Chris Murdock and Tom Milic found themselves in the same English course. Murdock can still rattle off the course's name. "Love and Knowledge, Both Sacred and Profane, from Ancient Times through the Renaissance," he says—"aka the Looooove Class."
Despite that awkward start, the friendship between the two Class of 1999 graduates continued. The duo started a recruiting company with a new way of doing business that has grown into a firm with international reach.
After graduation, Murdock jumped into the executive search field while Milic started a finance career with JPMorgan Chase & Co. By 2009, Milic was in Chicago handling investments for a major insurance company. Murdock was on the West Coast, an in-house recruiter at Yahoo. "I saw a different way to structure a business," Murdock says. "I was ready to hang out my own shingle."
His idea? A recruiting firm that, instead of commission-based placements, used an innovative, on-demand search model to bridge the gap between an in-house team and external expertise.
He ran the idea past Milic, asking if the business model made financial sense. The answer was yes, and the two launched IQTalent Partners in Murdock's Silicon Valley garage.
For the first year, Murdock focused on building the business. "I moonlighted on nights and weekends to handle the books," Milic says. The business model was proving profitable and scalable, so, in 2011, Milic moved to California to join the firm full time.
As their client list grew, they realized the staffing had to grow as well.
Murdock connected with the Vanderbilt Career Center, where he had been helping students learn to network and launch careers. One Skype interview later, IQTalent Partners had hired a Vanderbilt graduate as their first associate, establishing their presence in Nashville. The company continued to add both clients and employees and in 2019 relocated its headquarters from Silicon Valley to Nashville and is now a top 30 search firm in the country. It was just named "Best in Business" by the Nashville Business Journal.
"Our first 10 employees were Vanderbilt alumni, and now about 25 percent of our team graduated from there," says Murdock, who serves on the Career Center's Parents and Alumni Leadership Council. IQTalent Partners also collaborates with Vanderbilt to offer summer internships to student-athletes.
"My family and I recently moved to Nashville and my wife is now a physician at Vanderbilt. Given our strong ties to Nashville, Tom and I hope to be growing our business here for years to come."