Media Inquiries
Latest Stories
Beginning Monday, Nov. 2, the university will launch an indoor dining pilot at the Sarratt Student Center, Rand Hall and Central Library Community Room, with the intention of expanding the pilot to The Commons Center Dining Room before the end of the fall semester.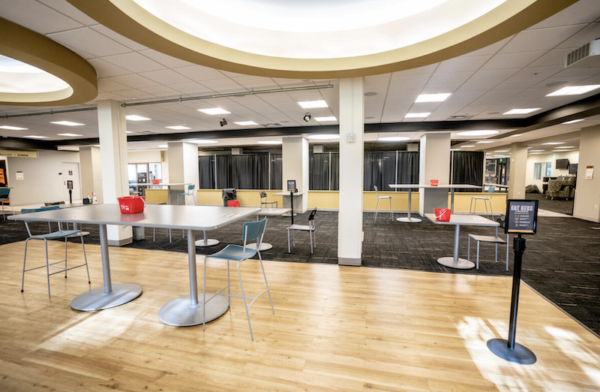 As part of the pilot, all dining furniture has been arranged to accommodate eight feet of physical distance, and additional signage has been placed throughout the dining areas, including instructional signage on where dining is allowed. It is important that all members of the campus community who use these dining spaces strictly adhere to campus protocols and posted signage, including only removing their face masks or coverings while actively engaged in eating or drinking. Face masks or coverings should be put back in place immediately after eating and before moving about. Individual use of these indoor dining spaces will be limited to 20 minutes.  
Similar to the outdoor dining tents, disinfecting wipes will be provided, and diners are asked to wipe down the table before and after each use. While these areas will not be continually staffed, staff will also wipe down areas at regular intervals, and Public Health AmbassaDores will be nearby to help ensure all campus protocols are being followed. 
The indoor dining pilot in the Sarratt Student Center and Rand Hall will offer just over 100 seats distributed across four general locations: 
Local Java

 

Rand Hall patio

 

Rand Hall student lounge

 

The upper level of Rand Hall, the third floor of the Sarratt Student Center and the promenade of the

Sarratt

Student Center

 
The Central Library Community Room will provide just over 20 seats to students who would like to eat in the library. Eating and drinking are still not permitted in any other parts of the library. 
In the coming weeks, the university plans to add approximately 50 seats in The Commons Center Dining Room, bringing the total number of seats to around 175.  
As the weather turns colder, the success of these indoor dining pilots will help further inform future plans for campus dining options. Any changes to campus dining for the spring semester will be announced before the start of the semester on Jan. 25.