By Robbie Harms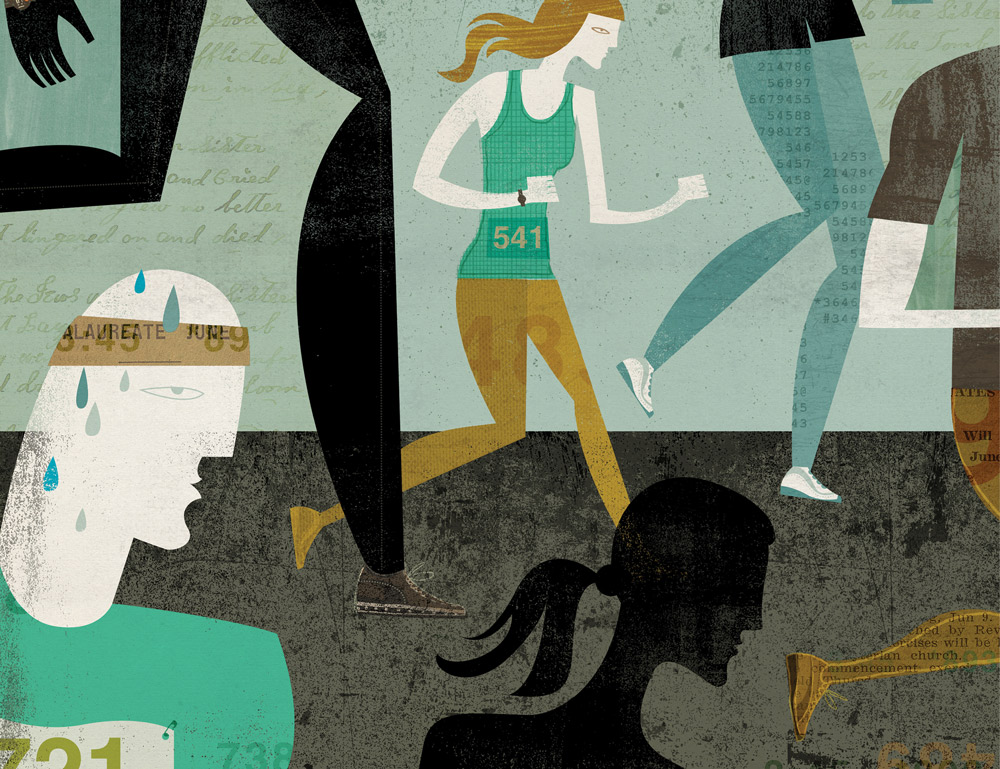 Joseph Elsakr, PhD'20, remembers the lack of nerves. Nick French, BE'16, remembers the awe and the anticipation. Then the starting horn sounded, and the two set off amid a crowd of runners, their thoughts and breaths drowned out by a tunnel of a thousand cheers.
Minutes later, on the same starting line, Amanda Scott, BE'09, remembers telling herself to think of everyone who helped her get there. Dr. Jeannette Mathieu, BMus'12, MD'17, remembers being anxious about the course, as well as being cold. Kristen Findley Morse, BE'13, remembers reminding herself of her three-part race plan: relax, then push, then fight. Again the horn sounded, and the women were off.
On Feb. 29, the best distance runners in the country were in Atlanta to compete in the 2020 United States Olympic Marathon Team Trials. For the men, a spot at the starting line meant they had run a previous qualifying marathon in under 2 hours, 19 minutes. That's an average pace of 5:18 per mile over a course of 26.2 miles—what would have been fast enough to set a world record in the 1950s. For the women, the qualifying threshold was 2 hours, 45 minutes, or an average of 6:18 per mile—on par with world records from the 1970s.
And notably, of the 691 elite men and women runners who came from all corners of the nation to compete, five were Vanderbilt alumni, including one (Elsakr) who also is a current Vanderbilt School of Medicine student. While two of them—French and Elsakr—are friends and training partners, the other three arrived at the starting line independently of one another, connected in spirit by Vanderbilt but ultimately following their own paths to Atlanta.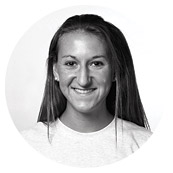 "Vanderbilt had a strong representation at the trials, which is impressive given the size of the university and its running program," says Scott, a chemical engineer based in Boulder, Colorado, who was competing in her third Olympic Trials. "I think a lot of that can be credited to Vanderbilt as a school, the athletics department, and especially Coach Keith." Scott, French and Morse all are former Vanderbilt student-athletes who competed under Steve Keith, BA'81, head coach of the men's and women's cross country and track and field teams.
In the end, none of the Vanderbilt runners qualified for the U.S. Olympic team, which will compete in the pandemic-delayed Summer Olympics in Tokyo next year. Then again, none of them really expected to: Only the top three men and top three women make each Olympic team, and they are typically professional runners with ample resources. Yet for all five Commodores, simply participating in the trials was a remarkable accomplishment and perhaps the pinnacle of their running careers.
"When I'm 95," Mathieu, a radiology resident in San Francisco, says of qualifying, "I'll still be able to remember exactly what it felt like."
COMPLETING THE PICTURE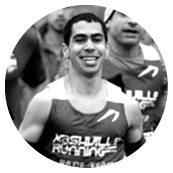 Elsakr's journey to the trials began years ago, as he supplemented his high school training with 5-mile runs in the humid, early-morning darkness of Port Orange, Florida. As an undergraduate at Duke University, he trained alone, running 80 miles a week in an attempt to walk on to the cross country team. The coach eventually offered him a spot, and Elsakr ran at the Division I level for three years before choosing Vanderbilt for medical school.
Several years later, Elsakr made his qualifying attempt for the Olympic Trials at the 2019 Indianapolis Monumental Marathon. Despite finishing in 2:18:57, according to the marathon's tracking app, he soon was informed that his "gun time"—the time elapsed from the starting gun to his crossing the finish line (and more important, the time United States Track and Field uses for trials qualification)—was 1 second off from qualifying, at 2:19:01.
It was a cruel discrepancy, but two days later Elsakr submitted an appeal to the USATF, accounting for the difference between the two times. The decision came back within hours: He was in.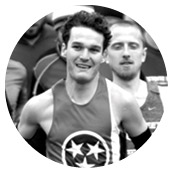 Meanwhile, French ran a 2:20:19 in the same race and now had to decide whether he wanted to run the Houston Marathon two months later as a last-chance qualifier.
"Seeing Joey qualify and then being on pace for the vast majority of it kind of made me want to try again," says French, a software engineer in Nashville.
In January, Elsakr traveled with French to Houston, where he paced his friend in a group for the first 16 miles of the race and then rooted him on for the last 10.2. French ran a 2:18:41 and was trials-bound at last. For the two friends—who had become serious training partners the prior summer under the coaching of Scott Wietecha, the reigning seven-time consecutive winner of the Nashville Marathon—the 100-plus-mile weeks and quality workouts had paid off.
"It was the biggest sense of relief that I think I've ever felt," French says.
Adds Elsakr, "It completed the picture, you know?"
'EVERYTHING GOOD THAT RUNNING CAN DO'
Morse felt similar relief in the summer of 2019 when she qualified at the Grandma's Marathon in Minnesota, where Scott had qualified the summer before that (and then ran an even faster time later in the year).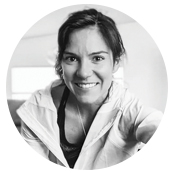 "I thought I was going to cry or have some kind of overwhelmingly emotional moment at the finish line," says Morse, a biotechnology engineer based in Salt Lake City. "Really I just felt relief."
Mathieu, meanwhile, qualified at the California International Marathon in December, even after stopping to retie her shoes at mile 12. Her legs were cramping when she crossed the finish line 11 seconds under the standard. "I crossed, I was super stoked, and then I immediately fell down," says Mathieu, who began running seriously with the Nashville Harriers running club while she was a Vanderbilt School of Medicine student.
After qualifying, the runners continued to face obstacles in training for the trials. Elsakr got sick and had to defend his thesis as part of Vanderbilt's Medical Scientist Training Program a few weeks before the race in Atlanta. French faced the unenviable task of preparing for a third marathon in four months. Mathieu, working 12-hour night shifts at the hospital, craved sleep so badly she once almost fell asleep under a tree during a long run in Golden Gate Park. Scott had to run indoors on the treadmill because of the snowy weather in Colorado. Morse trained for three weeks in Scottsdale, Arizona, to avoid the ice and snow of Salt Lake City.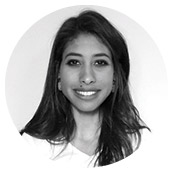 None of the runners, then, arrived in Atlanta with high hopes; most of them simply wanted to beat their seed time, or finish in the top 100, or even just the top half. They also knew the brutality of the trials course: three 8-mile loops with more than 1,000 feet in elevation change. Mathieu went on a driving tour of the course the day before. Her conclusion: "It was never flat!"
So there they stood on that early afternoon on Leap Day, separate but bound by their university. Morse couldn't have known that she was about to run her fastest marathon ever (2:38:59) and place 32nd among the 390 women who ran. Scott couldn't have known that she would walk during a marathon for the first time in her life but would finish through sheer determination (2:53:15), so spent at the end that she was speaking gibberish. Mathieu couldn't have known that she would run the first 18 miles at her goal pace before slowing for the final 8 (2:48:23). French couldn't have known that he'd describe the final 6 miles of his race as "truly terrible" (2:36:17).
And Elsakr couldn't have known, after running those thousands of miles, in Florida, North Carolina and Nashville, that this singular, elusive race driving every one of them was going to be the toughest of his life. He felt rough early and never fully recovered (2:39:03).
"But really I'm not upset, because I can't be," Elsakr wrote in a race report. "Today I saw everything good that running can do. It brings us together, and it showed me how awesome all the people are that I get to call family and friends.
"I'll never forget this weekend," he added.