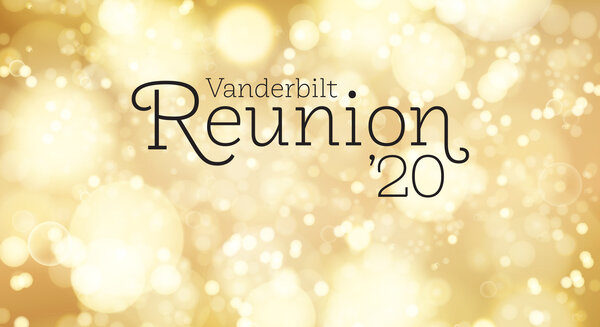 Vanderbilt University hosted a virtual celebration on Oct. 21 to recognize the Reunion classes of 2020 with a special toast. The event served as a prelude to an on-campus celebration planned next fall for all alumni whose Reunion year falls in 2020 or 2021.
Hosted by Reunion General Chairs Karen (BS'80) and Bill (BA'80) Fesmire, the virtual gathering featured a university update from Chancellor Daniel Diermeier that was broadcast live from the E. Bronson Ingram College great room on Vanderbilt's campus. Chancellor Diermeier addressed more than 300 viewers, including graduates from the class of 1970 to the class of 2015. He shared a university update touching on several topics, including:
Vanderbilt's response to the pandemic and plans for the spring semester
equity, diversity and inclusion initiatives
impact of Opportunity Vanderbilt and the Student Hardship Fund
importance of Vanderbilt Athletics
the impact of Vanderbilt alumni engagement and philanthropy
"As alumni, you have a profound impact on our university," Chancellor Diermeier said. "At different times and in different ways, you have all helped shape our past accomplishments, our culture and our values. You can carry our mission out into the world, and you will continue to make an impact on our future."
Chancellor Diermeier also thanked the 191 Reunion volunteers and the more than 2,000 alumni who have already made a gift to honor their reunion. "This year has brought many personal challenges and obstacles, and the gifts received—in spite of these circumstances—hold particular and profound meaning," he added.
Chancellor Diermeier's update was followed by a question-and-answer session where he addressed campus building projects, Greek Life, plans for Vanderbilt and more. The Q&A session also featured an update from Susan R. Wente, provost and vice chancellor for academic affairs and holder of a Cornelius Vanderbilt Chair. Wente discussed the recently announced plans to elevate Vanderbilt's career engagement services for students, alumni and employers.
Dr. André L. Churchwell, vice chancellor for equity, diversity and inclusion and class of 1975 alumnus, highlighted Vanderbilt's equity, diversity and inclusion efforts for the graduate and professional schools. Candice Storey Lee, BS'00, MEd'02, EdD'12, vice chancellor for athletics and university affairs and athletic director, spoke about her vision for Vanderbilt Athletics, including providing student-athletes with opportunities to compete and win.
The event also included celebratory messages from Reunion Class Chairs and Karen and Bill Fesmire, who expressed gratitude for Reunion volunteers and encouraged alumni to stay connected and engaged with Vanderbilt. Stay informed about Reunion plans at vu.edu/reunion.