Raquelle K. Bostow, Mellon postdoctoral scholar at Vanderbilt University, and a team of six undergraduate students from Fisk University have created the digital retrospective "Women of Rosenwald: Curating Social Justice through the Arts (1928-1948)." The exhibit, made possible through the Mellon Partners for Humanities Education program, sheds light on a lesser known part of one of Fisk's most popular collections—that of the Rosenwald Foundation.  
Julius Rosenwald was an American immigrant who became president of Sears, Roebuck, & Co., amassing a fortune that in 2020 would be worth more than $3 billion. Rosenwald traded a career in business for a life of philanthropy to pursue his goal of making America a fairer and more just place to live for marginalized groups. The Rosenwald Fellowships supported hundreds of Black intellectuals as they advanced their careers across creative and scientific fields.  
Working with DeLisa Minor Harris, special collections librarian at Fisk University's John Hope and Aurelia E. Franklin Library, Bostow's group dove into the materials left behind by the female recipients of the Rosenwald Fellowship. "The rich documentation from the Fellows is known but not as popular as the rural school development program within our Rosenwald Foundation collection," Minor Harris said. "I thought it would be ideal to focus on the female fellowship recipients who did some very important work for their communities through these awards." 
"After looking through many of the Fellowship files and connecting how the awards mobilized their careers and ability to touch their communities, I knew this was a project worth putting into the world," Bostow said. "Each of the women we profiled was driven to succeed professionally at a time when it was particularly difficult to do so. I see this exhibition as being not only about the women who received Rosenwald fellowships, but also about social justice. These women were able to redistribute their awards in various ways and to expand the roles of Black women in artistic fields for generations to come." 
Within the online exhibit are digitized documents, including handwritten Fellowship application materials, project status updates and other ephemera. The women featured in the exhibit used their time during and after the Fellowship to lay a foundation for the success of others; more than one artist opened schools or programs that enabled them to share their expertise with younger generations.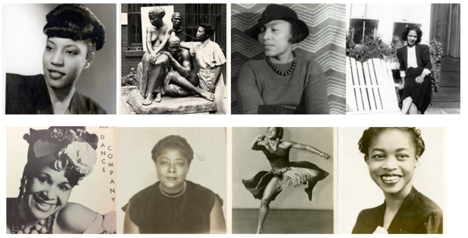 The exhibition explores the career trajectories of eight artists and intellectuals who participated in the Rosenwald Fellowship program. They included such people as Augusta Savage, a noted sculptor who established the Harlem Community Art Center, Fisk alumna Lenora G. Lafayette who became the first Black singer to perform at an English opera house, Elizabeth Catlett, an artist who infused political and feminist messages into her art, and Zora Neale Hurston the anthropologist and writer of the classic American novel Their Eyes Were Watching God. 
The research was a source of inspiration for Dartisha Mosley, a graduate of Fisk University in music and English who plans to study music ethnography. "It was a wonderful experience to get to know these women who had the courage to go after their dreams, in the context of the time they lived in," Mosely said. "The biggest rewards of participating in this research were to become versed in these women's ambitions and abilities and to trace their careers to see the impact of the Rosenwald Fund on their lives."  
"Fisk holds so many important documents that show us the ways in which this country is starting to recover from centuries of injustice," said Angela Sutton, research assistant professor and assistant director of the Mellon Partners for Humanities Education program. "Women are left out of conversations about power and money. Raquelle pulled these women's stories out of the archives and showed why they—the founders and powerhouses of an entirely new economy—cannot be left out of the discussion." 
The grant from the Mellon Foundation—of which Bonnie Dow, professor and dean of academic affairs in the College of Arts & Science is the primary investigator—enabled Bostow and her team to digitize the exhibit on Omeka, an open-source platform for online digital collections and exhibitions.  
"This partnership, and Raquelle and her team of students in particular, brought a great energy to the archives. It has been rewarding to see students interact with material that is new to them and to give them practical experience that will contribute to their own careers," Minor Harris said. "We are excited to continue our collaboration with two additional researchers over the next two years who will each produce a project that showcases the importance of Fisk's special collections to Nashville and the world." 
The Mellon Partners for Humanities Education grant was established to further humanities education and research at five colleges and universities in the Southeast, including Tennessee State University, Tougaloo College, Berea College, Fisk University and Vanderbilt University. The award was renewed in 2018 and will support further research and collaboration through 2022.