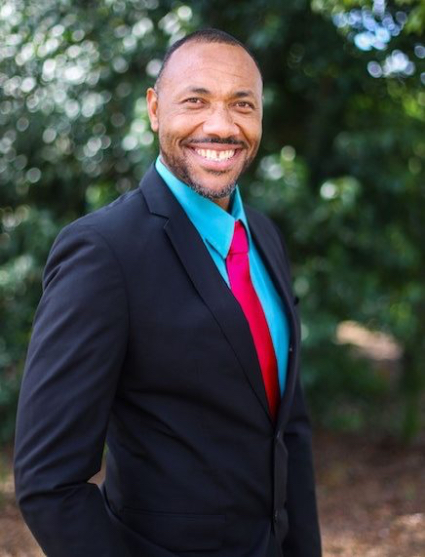 Franklin Ellis Jr. has been named director of the Provost's Office for Inclusive Excellence (OIE), Vice Provost for Academic Advancement and Executive Director of OIE William H. Robinson has announced.
Ellis comes to Vanderbilt from Coastal Carolina University, where most recently he served as assistant director of Intercultural and Inclusion Student Services. His career spans more than 20 years in higher education, beginning in residential education and later transitioning to multicultural services, with diversity and inclusion efforts always at the core of his work.
As director of OIE, Ellis will lead a team dedicated to ensuring the academic success of all students and the scholarly and professional success of all faculty and postdoctoral scholars while collaborating with schools, offices and groups across campus to foster a culture of inclusivity and belonging at Vanderbilt. In addition, Ellis' hiring reflects Vanderbilt's deepened commitment to equity, diversity and inclusion by increasing critical staffing for key areas across the university.
"I look forward to working with Dr. Ellis as he utilizes his extensive skills in both relationship-building and strategic implementation," Robinson said. "This hire strengthens the infrastructure of the Provost's Office for Inclusive Excellence and positions us for sustained impact at Vanderbilt."
Ellis, from Florence, South Carolina, earned a bachelor's degree in psychology and philosophy from Coastal Carolina University and a master's degree in mental health counseling from Wright State University in Dayton, Ohio. He earned his licensure as a clinical counselor and his doctorate in marriage and family therapy from the Chicago School of Professional Psychology in Westwood, California.
Ellis is a relationship expert trained to work with singles, couples, families and teams. He specializes in multicultural counseling with a concentration in demonstrating to non-Black or non-African American people how to serve Black or African American people within the mental health system in order to aid in making the process more familiar and familial and to encourage higher numbers of Black and African American people to utilize mental health services.
Inclusion and social justice work are Ellis' passion. He advocates for equality and equity for all individuals with systemically non-dominant identities by creating spaces that affirm them while aiding in the education and growth of those with systemically dominant identities.
"I am honored to serve the Vanderbilt community in my role as director of the Provost's Office for Inclusive Excellence," Ellis said. "I look forward to working with the consummate professionals within OIE, as well as the high-caliber faculty, staff, postdoctoral scholars, students and campus partners across Vanderbilt as we continue to cultivate an inclusive campus culture supportive of the entire university community."
For more information, visit the Office for Inclusive Excellence website.