Media Inquiries
Latest Stories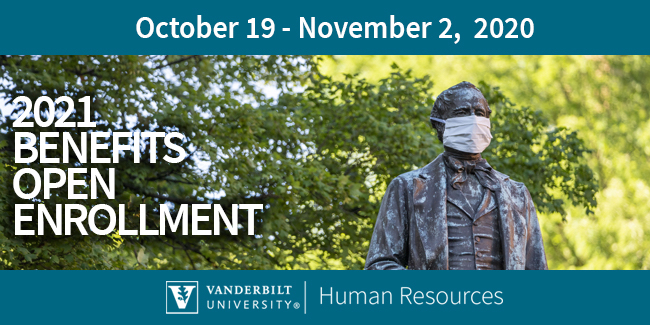 Open Enrollment is the annual opportunity for you to elect the benefits that best meet your needs. All benefits-eligible employees should complete Open Enrollment from Oct. 19 through Nov. 2 for calendar year 2021 benefits.
This year, all eligible employees must elect a health plan of their choice. Failure to complete the enrollment process will result in a default to the Choice Consumer-Driven Health Plan (Choice CDHP), the health plan option with the lowest premiums, at their current individual or family coverage level. In addition, for 2021 VU has selected a new dental and vision provider. Please take the time to familiarize yourself with the offerings and select what is best for you and your family.
Log in to My VU Benefits to elect, make changes to, or waive:
health, dental and vision insurance
supplemental life insurance
accidental death and dismemberment (AD&D) insurance
health care flexible spending accounts (FSAs), which reimburse medical expenses for you and your dependents
dependent care FSAs, which reimburse dependent care expenses
NOTE: You can select the 2021 benefits described above only during Open Enrollment or within 30 days of a qualifying event, such as getting married or having a baby.
Even if you are not planning to make changes, you must log in to My VU Benefits to:
confirm current elections
confirm dependent and beneficiary information
attest to whether you and your covered family members are tobacco-free. Eligible employees can save $20 per month on premiums.
attest to whether your spouse is eligible for coverage elsewhere. If you carry coverage for your spouse who has access to health insurance through another employer—including Vanderbilt University Medical Center—you'll pay a spousal fee of $100 per month.
We're here to help
If you need help enrolling using the My VU Benefits system, check out our how-to enroll guide.
Virtual Enrollment Labs
Oct. 20–Nov. 2
Various times
Speak with an HR representative about specific benefit questions. Schedule a 1:1 or select the walk-in Zoom link from our OE Calendar page.
Open Enrollment Benefits Forum
Tuesday, Oct. 20
10–11 a.m.
Join Catherine Wood, executive director of benefits, and Amy Grubb, associate director, as they talk about benefit changes for 2021 and our new price transparency tool, Healthcare BlueBook.
Webinar link: https://vanderbilt.zoom.us/j/98658458208?pwd=MXVqR2ZZc09GRldHdndvTDVMZWhoZz09
On-campus Lab
Thursday, Oct. 22
7 a.m.–7 p.m.
The HR Benefits team will be on campus in the Library Lawn tent answering benefit and Open Enrollment questions.
Virtual Benefits Fair
Tuesday, Oct. 27
10 a.m.–4:45 p.m.
The Virtual Benefits Fair is focused on helping you get the information and resources you need to make informed benefits decisions. Stop by to:
Speak directly with benefits providers
Learn about each of our benefits
Zoom links and schedule of benefit providers available online: https://hr.vanderbilt.edu/oe/2020-benefits-fair.php.
Learn more about Open Enrollment and sign up for 2021 benefits at vu.edu/oe.