The seventh annual Vanderbilt Undergraduate Research Fair was held on Oct. 8. Offered virtually via Zoom this year, the event gave 48 undergraduate students the opportunity to share their research via slide presentations. More than 130 faculty, students, staff and family and community members listened and asked questions.
This annual showcase provides a forum for undergraduate students to present research across all fields and disciplines. This year, the student presenters came from all four undergraduate schools and colleges, and faculty mentors representing more than 25 academic departments across Vanderbilt and other institutions participated.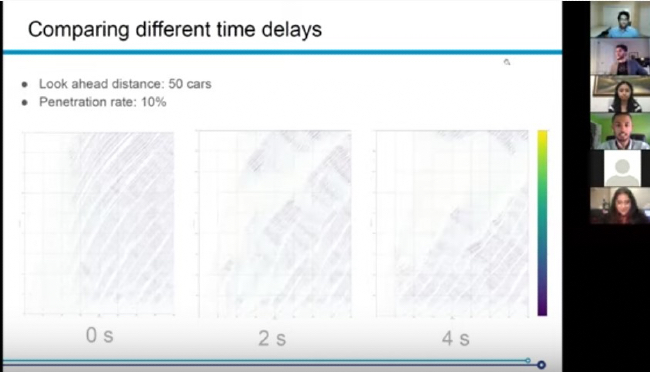 "Holding the Undergraduate Research Fair virtually this year worked really well," said Vanessa Beasley, vice provost for academic affairs and dean of residential faculty. "The schedule for the breakout rooms made it easy to attend panels throughout the afternoon. I was pleased to see so many students, faculty and staff members in each room, and I was also delighted that it appeared the parents and other family members were there to hear students present.  On top of all that, I learned a lot; our students' research is truly remarkable."
This year was the first time undergraduates used the fair to showcase their Immersion Vanderbilt projects since the start of the program in fall 2018.  Six students—Lucy Britto, Natalie Elliott, Katherine Kopp, Janet Stefanov, Zhengkai Xie and Jiachen Xu—presented the results of their innovative, individualized experiential learning projects. While a public presentation is not necessary to complete the Immersion Vanderbilt requirement, the Undergraduate Research Fair provided the perfect venue for these students to explain their work and how it grew from their own questions and passions.
"Presenting a project that was completed as part of an NSF-sponsored REU that also served as my immersion project motivated me to make this REU project meaningful to my personal and professional interests," Stefanov, one of the student presenters, said. "This project will now be listed as a crucial aspect of my Vanderbilt career." Stefanov's presentation topic was "The Adoption of M-Pesa: A Percolation Approach to Network Goods." She was mentored by Lori Rafter, principal senior lecturer in mathematics. The full program can be found here.
In addition to the student presentations, several breakout sessions, led by faculty, staff and students, shared information regarding how undergraduates can become involved in research opportunities in a variety of disciplines. Topics included how to use research to prepare for medical school, how to get started on research in social sciences and humanities, and why there is a need for more research by students and scholars from underrepresented groups in higher education.
The Office of Immersion Resources organized the research fair. It also coordinates initiatives affiliated with undergraduate research, including the Vanderbilt Undergraduate Summer Research Program. Future events include Explorations in Research and a spring undergraduate research fair to be held next semester. Research is one of the four Immersion Vanderbilt pathways and presents many opportunities for undergraduates to investigate and explore areas of interest and create meaningful, immersive experiences for themselves.
For more information about how to make original research the focus of a project for Immersion Vanderbilt, contact the Office of Immersion Resources, or go to vanderbilt.edu/immersion.