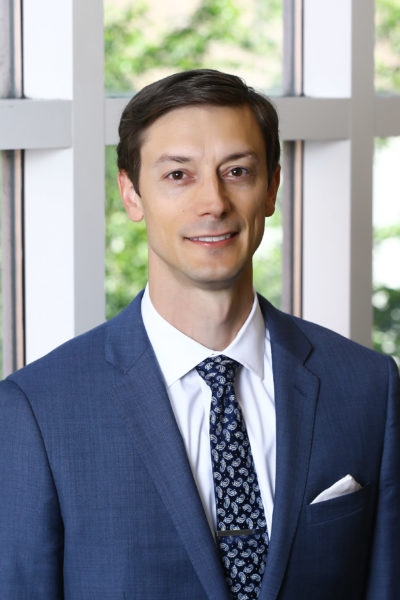 Hunter Parden, an MBA student at the Owen Graduate School of Management, has been awarded the John S. Beasley II Scholarship as part of Vanderbilt University's Bass Military Scholars Program. Parden is one of nine U.S. military veterans included in the newest cohort of Bass Military Scholars this academic year.
The Bass Military Scholars Program was launched in 2018 with a $25 million gift from the Lee and Ramona Bass Foundation. As part of the gift, the foundation endowed the John S. Beasley II Scholarship and specified it be awarded to a Navy veteran each year. The John S. Beasley II Scholarship is named in honor of alumnus John S. Beasley II, BA'52, JD'54, who served in the U.S. Navy and had a more than 50-year career at Vanderbilt, where he worked under five chancellors.
"Men and women who have put themselves in great danger for others of us and for their country, risking their lives, inevitably bring a different perspective to a class of fellow students and faculty. Hunter is a perfect example," John S. Beasley II said. "Flying from a carrier deck is no small feat of bravery in and of itself. But it also comes with the responsibility for missions in support of ground forces where failure—missing the target or being late—is not an acceptable option. Those life experiences are invaluable infusions into any student body. I can't tell you how fortunate his classmates are or how proud I am to have such a person—to have Hunter—carry my name."
Parden's military career spans both the Navy and Air National Guard. He served six deployments to the Middle East and has flown combat missions in both F-18 and KC-135 aircraft. He also earned his bachelor's degree in aerospace engineering from the United States Naval Academy in 2007. Parden plans to concentrate in finance at Owen and pursue a career in management consulting.
"Hunter's remarkable military service and academic achievements epitomize the values of our program," retired Lt. Gen. Gary H. Cheek, director of the Bass Military Scholars Program, said. "I have been enormously impressed with his strong moral character and passion for serving others. He will be an incredibly positive role model and mentor for the Vanderbilt student body and community."
Cheek has served as inaugural director of the highly competitive Bass Military Scholars Program since 2019 and recently announced he will be stepping down in 2021. The program currently provides $25,000 per year to an annual cohort of accomplished and talented veterans pursuing graduate and professional degrees at Vanderbilt University's Law School, School of Medicine, School of Nursing, Owen Graduate School of Management, and Peabody College of education and human development. The cohort meet regularly throughout the academic year to collaborate on projects designed to foster military-civilian dialogue and connection within the Vanderbilt community.
"I am honored to receive this scholarship and look forward to mentoring other students at Owen and beyond," Hunter Parden said. "I welcome this opportunity to invest in others and help them learn from my experiences, which, above all, have taught me the importance of serving others while cultivating gratitude and humility."
To learn more about the Bass Military Scholars Program, visit vu.edu/bass-scholars.