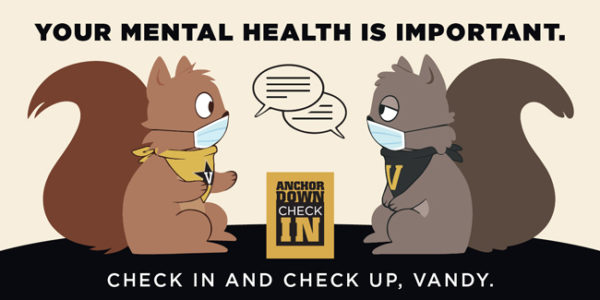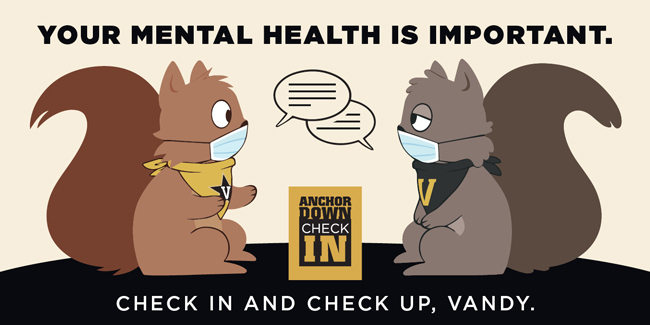 While symptom monitoring and testing are important parts of the university's "Anchor Down. Step Up." campaign, the overall well-being of the entire community is paramount.
During this time, and as World Mental Health Day approaches on Saturday, Oct. 10, the university encourages all Commodores to check in not only with themselves but also on their friends, classmates and colleagues.
All students should be encouraged to connect with the many available resources through the Student Care Network when in need. 
Students are encouraged to seek support through the Office of Student Care Coordination, which serves as the first point of contact for those who may have an academic, personal, emotional, medical or other concern. Student care coordinators individually assess each student's needs and explore resources within Vanderbilt's Student Care Network and/or the Nashville community to facilitate connections to the most appropriate support.
In preparation for this semester, the Student Care Network enhanced its staffing and training, increased its telehealth options, implemented targeted programming and reformulated its drop-in services. In August the Student Care Network also announced that all students can obtain free access to Headspace, a meditation and sleep app designed to reduce stress, improve happiness and increase compassion through guided meditation, sleep content, mindful workouts and focus exercises.
There are a variety of additional self-directed wellness tools (apps) to assist students with meditation, mindfulness, mood tracking and relaxation techniques. All students have free access to WellTrack, an interactive self-help app that provides guided therapy for anxiety, stress and depression. Students on the Student Health Insurance Plan have free access to SilverCloud, an online behavioral health platform that includes therapy programs to support positive behavior change and overall mental wellness, and to treat anxiety, stress and depression. MySSP, which provides counseling support for remote-only students, also is available.
Each area within the Student Care Network provides services to students. The University Counseling Center is supporting students through telemental health services. The Center for Student Wellbeing is providing academic, well-being, and alcohol and other drug support coaching appointments by phone, email or Zoom. Vanderbilt Recovery Meetings are being held using Zoom twice a week. Meditation sessions are being held using Zoom twice a week. Skill-building Workshops and Weekly Wellbeing Practices continue to be hosted by the Center for Student Wellbeing.
The Project Safe Center also continues scheduling appointments with students via phone or video. The 24-hour crisis support hotline is available at 615-322-SAFE (7233). The center now offers its support group, Rooted in Resilience, as a virtual group meeting. Students may communicate with the Bishop Joseph Johnson Black Cultural Center staff via email as well as scheduled virtual office hours. The Office of LGBTQI Life staff are available via email and virtual office hours. The Margaret Cuninggim Women's Center can be contacted via email at womenctr@vanderbilt.edu. Students are welcome to contact staff members individually as well. Events are listed in the Women's Center monthly newsletter.
The Writers Accountability Group is available to enable graduate and professional students to support each other through the writing process. The Graduate Life Coach, Stacey Satchell, is available to meet with graduate students via Zoom. Students can schedule an appointment online.
Faculty, staff and postdoc resources
Faculty, staff and postdocs also have resources when they are in need of assistance. Individuals seeking mental health and wellness support have access to Employee Assistance Program Work/Life Connections through individual counseling or coaching. The program offers telehealth appointments for short-term counseling, coaching and other services.