Media Inquiries
Latest Stories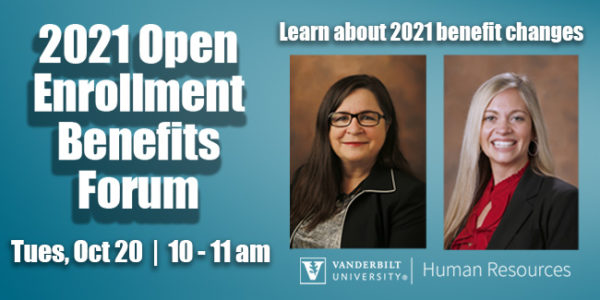 Learn more about benefit changes and Vanderbilt University's new price transparency tool at the 2021 Open Enrollment Benefits Forum on Tuesday, Oct. 20, from 10 to 11 a.m. CST.
Join Catherine Wood, executive director of benefits, and Amy Grubb, associate director, as they explain the benefit changes for 2021 as well as the new price transparency tool, Healthcare Bluebook.
The webinar link will be available here on the day of the forum.
What has changed?
Aetna Select PPO Pharmacy
Co-pays have increased from 2021.
Please take into account your known pharmacy needs for 2021 while reviewing these plan changes.
Dental Coverage
Vanderbilt's dental vendor will be DeltaDental.
There will be two dental plans in 2021, with monthly premiums either remaining the same or decreasing slightly from 2020.
Both the DeltaDental Basic and Premier plans offer :

access to the nation's largest dental networks
pay co-insurance for dental services
have a deductible to meet
have a calendar year limit that the plan will pay
Basic plan no longer requires referrals
orthodontia for both children and adults available only in Premier plan
Vision Coverage
Vanderbilt has a new vision vendor, DeltaVision.
DeltaVision eye care providers will look for vision problems and signs of other health conditions.
Coverage includes:

eye examinations
prescription eye wear and contact lenses
retinal screenings
eye health management
To review all benefits, check out the Detailed Guide (VUNetID and password required) available online at vu.edu/oe.