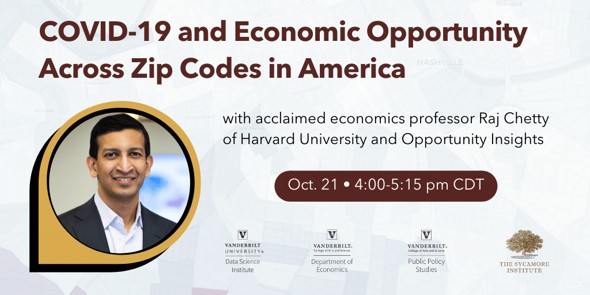 Vanderbilt University's Data Science Institute, Department of Economics and Public Policy Studies program, in partnership with the nonpartisan public policy research center The Sycamore Institute, are co-hosting a virtual discussion with celebrated economist and Harvard professor Raj Chetty on the economic impact of COVID-19.
Chancellor Daniel Diermeier will deliver opening remarks.
The live-streamed discussion will take place on Wednesday, October 21 from 4:00 to 5:15 p.m. CDT. Registration is required.
Chetty's groundbreaking work has transformed what we know about economic mobility in the United States. During this virtual event he will answer whether or not the economic fallout of COVID-19 will make it harder to get ahead in America, or if it is already harder than we think.
With insights for data scientists, economists, policymakers, and community leaders across all sectors, Chetty will show how the pandemic's impact varies by ZIP code, discuss current and potential public policy responses, and connect the dots to long-standing obstacles to opportunity.
Chetty is the director of Opportunity Insights, leading a team of data scientists and policy analysts working together to analyze new data and create a platform for more informed decision making at the local level. His work in combining empirical evidence and economic theory has helped to design more effective government policies and Chetty has been widely cited in academia, media outlets and Congressional testimony on topics ranging from tax policy and unemployment insurance to education and affordable housing.
Chetty received his Ph.D. from Harvard University in 2003 and is one of the youngest tenured professors in Harvard's history. Before joining the faculty at Harvard, he was a professor at UC-Berkeley and Stanford University. Chetty has received numerous awards for his research, including a MacArthur "Genius" Fellowship and the John Bates Clark medal, given to the economist under 40 whose work is judged to have made the most significant contribution to the field.
Participants are invited to submit questions for Dr. Chetty in advance of the lecture, on the registration page.