When Arts and Science student Chandler Quaile first put his mark on Vanderbilt, he did so with a handful of acrylic paint.
Quaile and fellow first-year students living in Carmichael Towers this semester came together for a special art night called "Leave your Legacy."
"In order to bond as a group, we did some community-building art, which I think is a really great way to go about it," said Quaile, of Powder Springs, Georgia. "I think creative expression is the best way to get to know people."
The students painted a large banner to fill the Towers lobby. Resident adviser Nolan Raghu, a senior computer science and math major, said he and other RAs at Towers are finding ways to unite students.
"My freshman year, we all made these big murals in front of our Commons houses," Raghu said. "I thought it would be nice to tie in with that really cool experience that I had."
Other residential communities are also using arts and crafts to bring students together. Residents at E. Bronson Ingram College recently held an online watercolor night, and students can take part in a weekly "Cut the Craft" get-together at The Commons Center to de-stress and make something fun.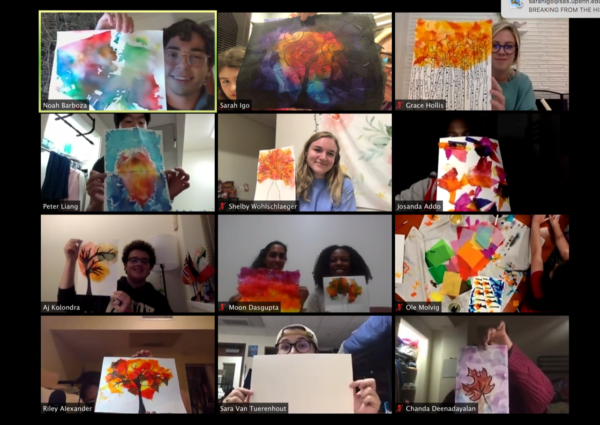 Raghu said no matter the activity, the faculty heads of house and staff recognize the difficulties students may be having with the pandemic and want them to feel comfortable expressing their true feelings about the situation.
"One of the things that really helped me with my floor is being transparent about the state of COVID-19 and how we're all dealing with it," he said. "My freshman experience didn't include a pandemic, so I'm going through this right with them. I'm actually proud of them because they've done a really good job building community through a kind of adversity."