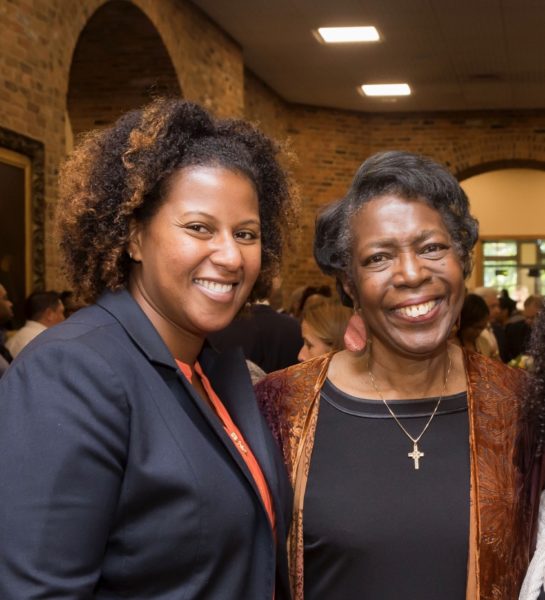 Dorothy J. Wingfield Phillips, BA'67, the first African American woman to receive an undergraduate degree from Vanderbilt and a member of the inaugural class of Vanderbilt Trailblazers, recently was interviewed by the American Chemical Society about her career as a chemist and the importance of making the physical sciences more inclusive for women and underrepresented minorities. Phillips, who was honored in September with a lifetime achievement award from the National Organization for the Professional Advancement of Black Chemists and Chemical Engineers, retired from Waters Corp. in 2013 as director of strategic marketing and currently is serving her third term on the ACS board of directors.
The following is a condensed, edited version of the ACS interview, which originally appeared in its Industry Matters newsletter.
What do you recall as some of the bigger adjustments you had to make to life at Vanderbilt?
Prior to going to Vanderbilt, my education had been in the segregated school system of Nashville. All my teachers and classmates were African Americans. I began my college years at Tennessee State University where in the early 1960s the students and teachers were predominately people of color. …
When I decided to go to Vanderbilt, which recently had integrated, the focus was on getting the education that would put me in a better position to be admitted to its medical school. Plus, a fellow chemistry major at TSU asked me to come with him to Vanderbilt.
Once on Vanderbilt's campus, reality set in. No one spoke or gave warm greetings as I passed them. The first and major adjustment was to an environment that did not embrace this brown girl. It was rather lonely.
The second adjustment centered on the teachers of the social sciences who had quite different views on cultural or social issues than me. Being a pre-medicine and chemistry major had its advantages over these classes because the answer was either right or wrong. I am stronger—my faith is stronger—for I persevered with God's help. Recently, I have been honored as a Vanderbilt Trailblazer, and my picture is hanging in Kirkland Hall.
What's the one trait that has been most instrumental in your career success?
I am an extremely competitive person. In school, I always wanted to have the highest grades; I would set out to do better than the other high achievers in my classes, even if it was my best friend. In my career I always strived to give my best effort and to reach out to others or seek the information that could close any gaps that hindered me from doing so.
I joined Waters Corp. with a background in large molecules, such as protein analysis. However, Waters' experience was in small molecules, or drug analysis. To be competitive for promotions and customer interactions, I needed to be skilled in chromatography or separation science of small molecules. Uwe Neue was a guru in chromatography of small molecules, known worldwide for his work. He was my manager and my mentor starting early in my career at Waters. I learned small molecule analysis from him, and he in turn learned large molecule analysis from me. Thus, I was positioned to take projects related to the key pharmaceutical business and advance my career at Waters.
Why are the first months in a new job so impactful to one's overall career success with a company?
First impressions are lasting impressions. Your interest in learning about the company, assignment, boss and next steps is often shown by asking the questions and taking leadership in your small world. Those early relationships grow as you move forward, and you become known as one to be trusted to get the job done.
I made friends within my department, got to know my customers in chemistry and instrumentation research and in manufacturing. You often could find me walking the halls and asking questions, living outside my cubicle—even accepting the request three months into my job at Waters to step in for a colleague who could not present at a conference. I formed lasting relationships with several people that I met at that conference, even Waters' field staff. Delivering my part and being trusted and expected to do so in the first six to eight months, plus having established mentors, were critical to my continuously moving up the ladder.
Why is identifying an effective mentor so valuable, particularly for early career industry chemists?
Each company has its own culture, and in many cases, politics. Learning or understanding the culture and politics is not easy without having a person who has your interest at heart, someone who wants to help you integrate into the company. A co-worker, Jeanne Li, was the first person to help me understand what was expected of a scientist at Waters. She encouraged me to do all my work with the goal of having a publication in peer-reviewed or trade journals, or making an oral or poster presentation at a conference. She would ask to be my roommate at conferences like Pittcon to give me an opportunity to practice my talks. Yes, Jeanne mentored me in an area that was important not only to my career at Waters, but also in establishing me as a scientist in the separation sciences community worldwide.
A recent McKinsey study revealed that U.S. and United Kingdom executive teams were 13 percent ethnic minorities in 2019, up from 7 percent in 2014, even though nearly 40 percent of the U.S. is nonwhite. What will it take, in your view, to achieve more rapid progress in this area?
I do not have a quick answer, but the current emphasis on racial justice could be a step forward. … The statistically significant correlation between a more diverse leadership team and financial outperformance demonstrated five years ago continues to hold true in more recent studies. Potential to improve the bottom line impacts the rate of change to a more diverse staff in the C-suite. Changes in diversity in the executive team must be driven from the top leadership level—boards and CEOs. Facing the reality of race relations, not denial, is another factor. Addressing biases is another approach. Planned workshops, open discussions and setting metrics to measure and achieve progress would be positive actions.
What can industry do to make the workplace more welcoming and rewarding for women?
The issue here is diversity and inclusion in general. As an industry that makes a greater effort to expand its workforce to include more nonwhites, non-male and underrepresented employees should benefit. Industry must have focused programs to address this issue; the impact must start at the C-level. …
I felt welcomed at Waters, but again rewarding depends not just on what you do but how others perceive what you are doing. Fortunately, I had mentors who promoted or spoke up for my being recognized.
Women who reach the C-level play a major role in other women being recognized through promotions and honors. I was promoted to director by a woman senior vice president; I was on her staff. As a result, I had a global role, traveling worldwide to visit customers, exploring unmet needs in separation science that Waters could/should address, and supporting geographical businesses. Through this role I traveled to Japan, China, India, Europe and Thailand. If each woman who makes it up the ladder in industry brings another woman along, then the workplace will become more welcoming and rewarding.