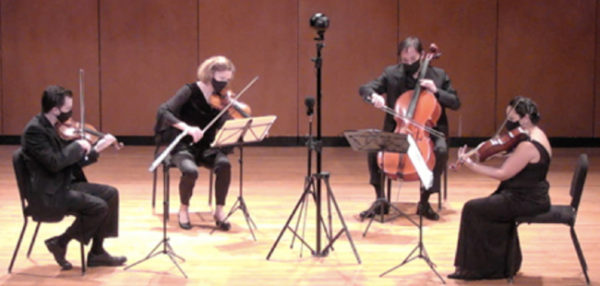 The COVID-19 pandemic has challenged performing arts organizations to get creative in how they present performances to the public both safely and accessibly. This month, Vanderbilt University Blair School of Music is taking the technological leap into virtual reality.
The Blair String Quartet will perform a live-streamed concert on Friday, Oct. 2—including a portion that can be experienced in 3D virtual reality—as part of the Blair On Air fall concert series.
One of the pieces in the Blair String Quartet's Oct. 2 recital has been filmed with a 3D virtual reality camera in addition to conventional filming. Viewers who possess VR goggles will be able to experience the piece as if they were standing in the middle of the players while they perform. Viewers who don't have VR goggles can still take advantage of some of the 3D effects.
"One of the most important things that we're doing here at Vanderbilt Blair is reaching out to new and diverse audiences, so one of the most important starting points for that is meeting people where they are," said Lorenzo F. Candelaria, dean of the Vanderbilt Blair School and professor of music. "If you think about how so many of our young people these days are immersing themselves in music—through things like virtual reality, gaming and YouTube—I think this is a really important step for us.
"While we would all prefer to be performing in front of live concertgoers, the no-audience format is giving us the freedom to explore new avenues to bring music to our patrons in different and innovative ways," he said.
About the Oct. 2 program
The year 2020 marks the 250th anniversary of Beethoven's birth, so the Blair String Quartet will conclude its Oct. 2 concert with Beethoven's Op. 127 Quartet in E-flat major, according to first violinist Stephen Miahky.
"While Beethoven was a revolutionary musician and artist, he was also a forward-thinking person in terms of equality and rights for all," Miahky said. "That's why we'll be pairing the Beethoven with pieces by two Black composers, Jessie Montgomery and Samuel Coleridge-Taylor."
Montgomery's composition, Break Away, is the virtual reality piece. Written in five moments, it calls on popular styles such as jazz, hip hop and rock and also has several moments of improvisation from the players.
The next piece on the program is the 5 Fantasiestucke by Coleridge-Taylor. At the turn of the 20th century, Coleridge-Taylor was one of the most popular and often-performed composers. His music reflects the language of contemporaries such as Grieg, Dvorak, Smetana and Brahms. The program will conclude with the Beethoven quartet.
The recital will be live streamed via the Vanderbilt Blair website beginning at 8 p.m. The virtual reality piece will be posted to YouTube at the same time, as well as be linked from the live-streaming page.