MyVU is spotlighting a select group of new faculty for 2020-21. Read more profiles in the series.
By Kathryn Royster
Major Jackson grew up surrounded by poetry. He read Langston Hughes and Robert Frost, listened to rap music, and was immersed in hymns and sermons on Sundays.
"Those influences engaged my ear and attuned it to the cadences of speech," Jackson says. "They created a relationship to the power of the music of language."
Now an accomplished poet and essayist, Jackson will join the Vanderbilt faculty as Gertrude Conaway Vanderbilt Professor of English in January 2021 after 18 years in the Department of English at the University of Vermont. His work includes five volumes of poetry: The Absurd Man (2020), Roll Deep (2015), Holding Company (2010), Hoops (2006)—all published by W.W. Norton & Co.—and Leaving Saturn (2002, University of Georgia Press), which won the Cave Canem Poetry Prize for a first book of poems. He also edited the annual anthology Best American Poetry 2019. His work has appeared in American Poetry Review, The New Yorker, The New York Times Book Review and Ploughshares, and he has received awards and fellowships from the Guggenheim Foundation, the National Endowment for the Arts, the Pew Fellowship in the Arts, and the Library of Congress.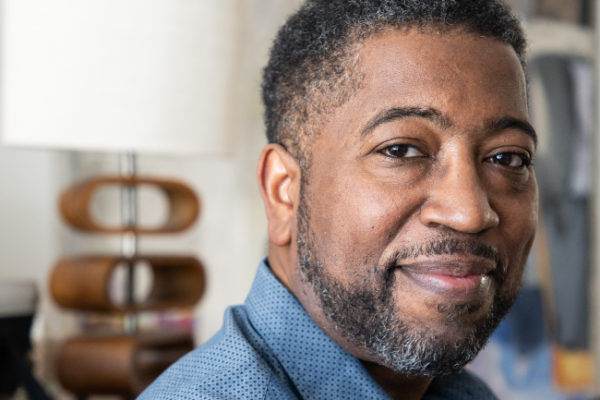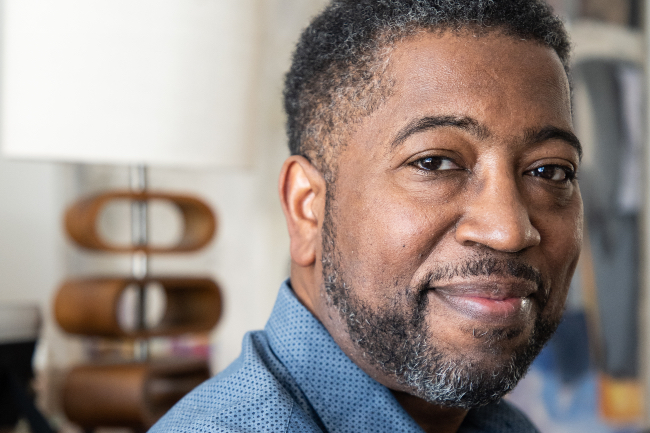 Jackson did not originally plan to become a poet. He majored in accounting at Temple University and took English classes as electives. After graduating, he became the finance director for the Painted Bride Art Center in Philadelphia, where he met professional musicians, artists and poets who used their work as a form of activism.
Those interactions made him realize how much he loved making art and prompted him to begin freelancing as a literary critic and hip-hop journalist. One writing assignment introduced him to the Dark Room Collective, a Massachusetts-based group of poets who opened his eyes to the possibility of a life in poetry.
"My big 'aha!' was that art did not have to merely engage in self-expression, which is how most people believe poetry functions—a mirror for the ego—but that it can be an immense tool for community-gathering," says Jackson, who also earned a master of fine arts from the University of Oregon. "We are less alone when we hear the human condition articulated in a poem or essay."
That same desire for community drew him to Vanderbilt. He is excited about joining the English department's current cohort of poets and fiction writers, who have in subtle ways influenced his own work, and about extending and stewarding the university's long literary tradition as a member of the Vanderbilt MFA Program in Creative Writing. He is most enthusiastic about the opportunity to help students connect their writing to the larger world and to the most pressing issues of our time.
"Robert Frost wrote that poetry affords us 'a momentary stay against confusion.' I see such moments of clarity occur in students' work, particularly when we imaginatively sort through social issues that plague our lives," Jackson says. "Most people believe poetry is merely a transcription of the poet's thoughts and experiences, but I like to remind them that poetry is its own mode of inquiry. I become excited by that pitched level of thought and inquisitiveness."