When faculty head of Murray House Alyssa Hasty connects with first-year students this semester, she's often doing so from a white painted circle on a lawn at The Martha Rivers Ingram Commons.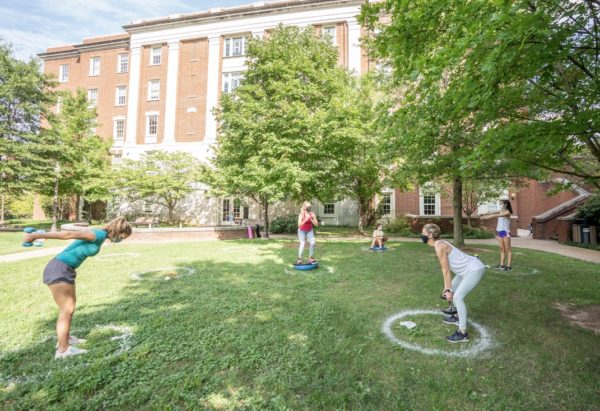 Hasty leads circuit training and other workout classes as a way to help students step away from their computers, get moving and connect face to face.
"I want my students to feel not only physically but mentally, emotionally and spiritually healthy. It all wraps up together," said Hasty, Cornelius Vanderbilt Chair in Molecular Physiology and Biophysics, associate dean for faculty in the School of Medicine and a researcher for the U.S. Department of Veterans Affairs.
Hasty has always loved sharing her passion for exercise and used to lead a group of runners from The Ingram Commons that often started the year with 70 or more students. While the Commons Runners is on hiatus, she said COVID-19 safety protocols are creating some unique benefits.
"I think that all of us, including me, really appreciate when we get to be together, and the small groups create the physical and emotional room for more personal conversations," she said. "What has been particularly gratifying to me this year is that most of my fitness classes have Murray students who are currently living on the Commons as well as those who live on other parts of campus." 
Hasty said she strongly connects with students who are adjusting to the "new normal" of safety protocols.
"I went through a struggle myself in March when everything fell apart and all of a sudden I was fully working from home," she said. "It took me a while to realize that I needed to break up my day and go outside and get my endorphins going with exercise."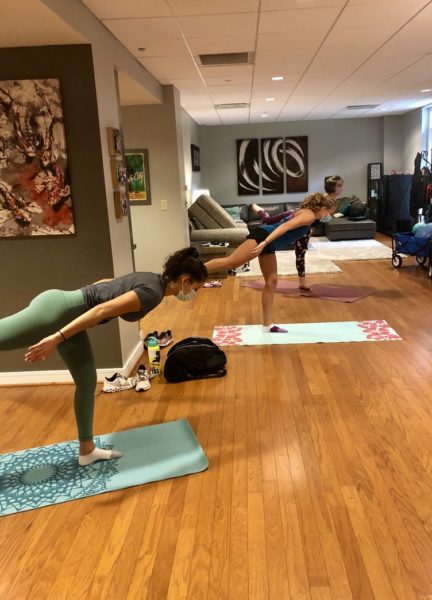 Bringing research home

Beyond The Ingram Commons, Hasty is a leader in the field of immunometabolism, which is the link between the immune system, metabolism and obesity.
"In my laboratory we're interested in how obesity increases risk of diabetes, so fitness has always been an important part not only of my research, but also my personal life," she said.
Whether fitness is your thing or not, Hasty said, there are simple ways to help your body and mind.
"I would encourage students to at least take a 10- or 15-minute break, walk around the building and say hello to a few people on your way back," she said. "You really will be much better able to engage in your studies again after that."
Healthy options

The Ingram Commons is also partnering with the David Williams II Recreation and Wellness Center for Zumba and Pilates classes geared toward first-year students. Students can find these classes on Anchor Link.
The Rec Center is hosting multiple outdoor and safely distanced indoor classes for students, faculty and staff. See a list of classes here.