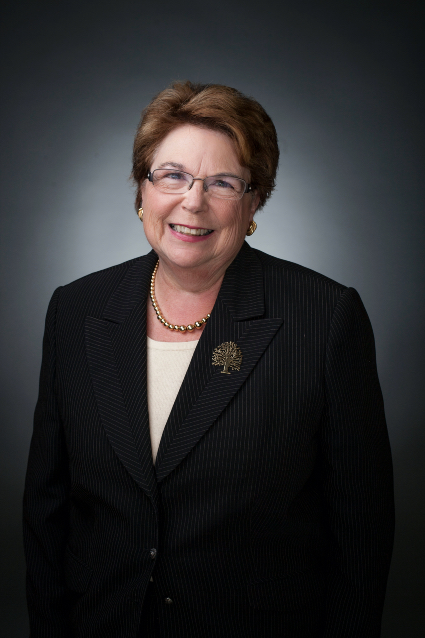 Linda D. Norman, dean of the Vanderbilt University School of Nursing and the Valere Potter Menefee Professor of Nursing, announced she will step down from the position June 30, 2021.
A transformational leader, Norman has served as dean since 2013 and spent nearly 30 years in various academic and administrative roles at Vanderbilt. Most recently, she has played a key role in formulating and implementing Vanderbilt's Return to Campus Plan, which has been widely effective in limiting the spread of COVID-19 as the university resumed on-campus classes this fall.
"Under Linda's leadership, Vanderbilt's nursing programs have set the national standard for training world-class research-focused and practice-focused nurse scholars who are making a difference for their patients and the communities they serve," Chancellor Daniel Diermeier said. "We are honored by her service to our university and by the tremendous impact she has had as scholar, teacher, mentor and leader throughout her remarkable career."
Vanderbilt School of Nursing has risen in the U.S. News & World Report rankings during Norman's tenure, with its Doctor of Nursing Practice program ranked No. 5 and its Master of Science in Nursing program ranked No. 9. Its psychiatric-mental health and nurse-midwifery specialty programs ranked No. 1 in the U.S. News survey. VUSN offers leading advanced practice nursing programs, as well as a top Ph.D. program. The school also has been a leader in the use of state-of-the-art technology and development of blended distance-education methods for more than 20 years.
"Linda exemplifies the blend of human, technical and critical thinking that defines the field of nursing, a field more urgently relevant today than ever," said Susan R. Wente, provost and vice chancellor for academic affairs. "She has also forged key partnerships within Vanderbilt University Medical Center and the School of Medicine, as well as with many other colleagues across our schools and colleges. Her leadership has been a model of trans-institutional partnerships and one we can aspire toward in the future."
Under Norman's leadership, the School of Nursing completed a $23.6 million building expansion in 2019, which added numerous innovative classrooms and a state-of-the-art simulation lab. The building was built to LEED and WELL designations for sustainability and wellness, respectively. She also has focused on increasing the school's research profile, number of tenure-track faculty, and support for scholarly work by nontenure-track faculty. External funding to the school has increased. To deepen strategic involvement of key constituencies, Norman created the Dean's Advisory Board comprised of national nurse executives, alumni, and academic nursing and community leaders.
"Vanderbilt is a remarkable institution that truly embodies a spirit of collaboration, compassion and scientific achievement. That is true of the university community and of the School of Nursing," Norman said. "I am proud of all that we have accomplished together and look forward to the School of Nursing's next chapter."
The school has been named as the Best School/College of Nursing for Men for the past two years by the American Association of Men in Nursing. The school has also been designated as a Center of Excellence by the National League of Nursing and was the recipient of the New Era for Academic Nursing Award from the American Association of Colleges of Nursing.
Prior to her tenure as dean, Norman served as the School of Nursing's senior associate dean for academics, responsible for setting and implementing the strategic direction for all School of Nursing academic pathways. Recognized as a national and international leader in nursing and health profession education, Norman was inducted as a fellow into the American Academy of Nursing in 2004, and in 2010 and 2014 won the Excellence in Education Author Award from the scholarly journal Nursing Outlook. Her visiting professorships include ones held at Queens University Belfast in Northern Ireland and the University of Hong Kong.
Norman started her career as a staff nurse on a neurosurgical unit in Virginia before turning to nursing education. She earned her bachelor's and master's degrees from the University of Virginia, where she received the Distinguished Alumna Award in 2014, and earned her doctor of science in nursing from the University of Alabama at Birmingham.
Details about a search committee for Norman's successor will be forthcoming.