Media Inquiries
Latest Stories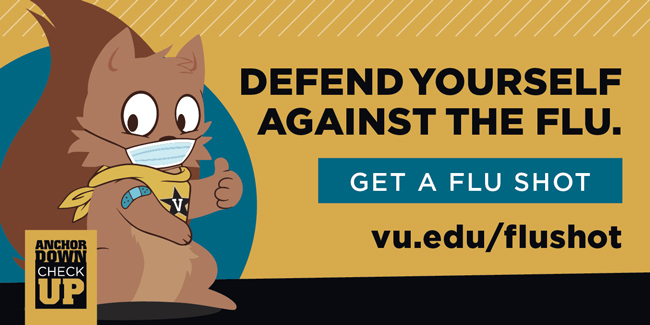 Flu vaccinations are strongly encouraged in support of the health and safety of the Vanderbilt and Nashville communities. This year, there will be three no-cost, convenient options for faculty, staff and postdocs to obtain a flu vaccine during the next three months.
Employees working remotely are highly encouraged to obtain their vaccination at any Vanderbilt Health Walk-In Clinic or any of the walk-in clinics (not pharmacies) at Walgreens stores. Flu vaccinations are 100 percent covered as preventative care for all employees who are on a VU Health Plan.
Additionally, departments may contact Occupational Health to coordinate on-site flu vaccines for their employees. Requests can be made in the "Ask OHC to Come to You" section of the Flula-2-Uza webpage.
For employees primarily working on campus, small Flula-2-Uza events will be held in the Library Lawn and Peabody tents throughout October:
Fri, Oct. 2: 9 a.m. to 3 p.m. (Peabody)
Thurs, Oct. 8: 9 a.m. to 3 p.m. (Library Lawn)
Fri, Oct. 9: 9 a.m. to 1 p.m. (Library Lawn)
Tues, Oct. 13: 9 a.m. to 3 p.m. (Peabody)
Tues, Oct 20: 9 a.m. to 3 p.m. (Library Lawn)
Thurs, Oct 22: Noon to 4 p.m. (Peabody)
These events will be staffed by two nurses and there will be no sign up required. Flu vaccines will be given on a first-come, first-serve manner in a physically distanced line. Those receiving a flu vaccine at these sites must have completed a Return to Campus Acknowledgement.
Student Health Center offers free flu shots for students
As of Saturday, approximately 1,640 students had already received their free flu shot through the Student Health Center (SHC).
Free flu shots are now available for all students at the Student Health Center. Shots are available on a walk-in basis, and no appointment is necessary. You must bring your Vanderbilt ID.
We strongly encourage all students to take advantage of this free opportunity and get their flu shot this year. The SHC has increased its staffing to allow for proper physical distancing within the clinic and to minimize wait times.
For added convenience, there are two more Saturdays when flu shots will be made available to students: Sept. 26 and Oct. 17 from 10 a.m. to 2:30 p.m. 
The Student Health Center offers these tips for avoiding the flu:
Get your flu shot: The vaccine administered will be a thimerosal-free, latex-free quadrivalent inactivated vaccine.  Flu mist is not available due to low effectiveness.
Cover your mouth and nose: cough or sneeze with a disposable tissue or into your sleeve.
Wash your hands regularly with soap and water for at least 20 seconds.
Don't share silverware, dishes, cups and glasses with anybody else.
If you have a fever or flu-like symptoms or have been in close contact with someone who has been diagnosed with the flu, visit the Student Health Center.