Media Inquiries
Latest Stories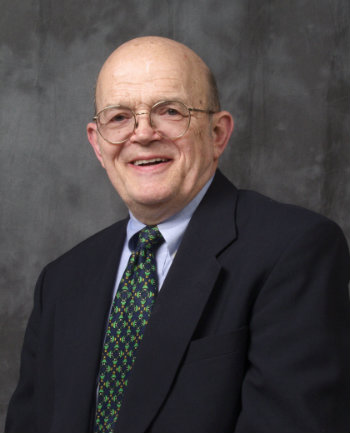 David Lawrence Tuleen, an emeritus chemistry professor who excelled first as a teacher and later as a university administrator, died at his home on Aug. 16. He was 83 years old.
Tuleen was born on Sept. 19, 1936, in Oak Park, Illinois. He majored in chemistry at Wittenberg University, earning his bachelor of science in 1958. He went on to graduate school at the University of Illinois at Urbana-Champaign, earning a doctorate in organic chemistry in 1962. His thesis was titled "The Polar Character of Certain Bond Hemolyses."
Tuleen was a postdoctoral fellow at Pennsylvania State University before accepting a tenure-track position at Vanderbilt in 1963.
His lecture style helped him become a well-liked teacher of introductory organic chemistry, a course notoriously difficult to teach. He also taught advanced organic chemistry and served as director of undergraduate studies for his department. During his early career, he was a visiting professor at Middle East Technical University in Ankara, Turkey.
Tuleen's research interest was in the field of organic chemistry, including organic sulfur compounds and organic reaction mechanisms. His research papers were cited many times.
"Professor Tuleen was tough but fair in the classroom," said Dr. John Bright Cage, BA'75, one of his former students. "For the past two decades I had the privilege of being his cardiologist, and I learned what a deeply caring person he was."
Tuleen received the Madison Sarratt Prize for Excellence in Undergraduate Teaching in 1970. Four years later, he was named associate dean of the College of Arts and Science. He served as associate dean until 1992, when he was appointed associate provost for administration.
"David's careful oversight of finances—of first, the College of Arts and Science, and later of all schools reporting to the provost—enabled them to prosper, grow and excel," said George H. Sweeney, professor of economics, emeritus, and a former associate dean of the college. "Dave was an exceptional colleague who always acted with the best interests of the university in mind, and whose superb sense of humor could evoke a chuckle in almost any meeting."
Tuleen stepped down in 2003 to become special assistant to the provost. In 2006, he retired as professor of chemistry, emeritus.
Music was a source of great joy for Tuleen. "I remember that Dave had a wonderfully strong voice," said Joel Tellinghuisen, professor of chemistry, emeritus, who sang with Tuleen in the Nashville Symphony Chorus. "Dave also performed in several musical productions of the Nashville Opera and Circle Players."
Tuleen was an active member of First Lutheran Church and volunteered with Room in the Inn.
Tuleen is survived by his wife, Jean Brummer Tuleen; four daughters: Elissa Clark, BA'83, Karin Dunn, Julia Tuleen and Lucia Vining; 13 grandchildren; and 3 great-grandchildren.
The family requests that any gifts in memory of Tuleen be directed to ELCA World Hunger Fund (ELCA.org/foundation) and Room in the Inn (RoomInTheInn.org).